QWERTY fans and BlackBerry loyalists who prefer the touch-and-type user experience available on the BlackBerry Q10 (review), but find its R9 000 pricetag a little too aspirational, can opt for the Q5.
The Q5 (120 x 66 x 10.8 mm) is pocket-and-grip friendly and fairly lightweight at 120 g, making it comfortable to use over extended periods. The typing experience on the physical QWERTY keyboard is good, but not excellent as on the Q10. This is due to the different design of the Q5 keyboard that features chiclet-style keys that have very limited travel depth, with individual keys also coming across as smaller than those of the Q10's keyboard.
Design
This keyboard is paired with 3.1" (720 x 720 pixels; 328 ppi pixel density) IPS LCD capacitive touchscreen, which is every bit as responsive as the 3.1" (720 x 720 pixels; 328 ppi pixel density) Super AMOLED of the Q10. Although colours are not as vibrant as on the Q10 (or any AMOLED sporting mobile for that matter), viewing angles remain excellent.
Overall, the smartphone feels sturdily constructed but it definitely does not ooze style and class like its bigger brother due to the all plastic construction and cheap hollow-sounding back cover.
This Q5 offers a unibody construction that does not allow you to remove its battery. Users will find the microSD card slot (supports cards up to 32 GB in size) and microSIM slot on the left side of the device via a rather flimsy plastic flap.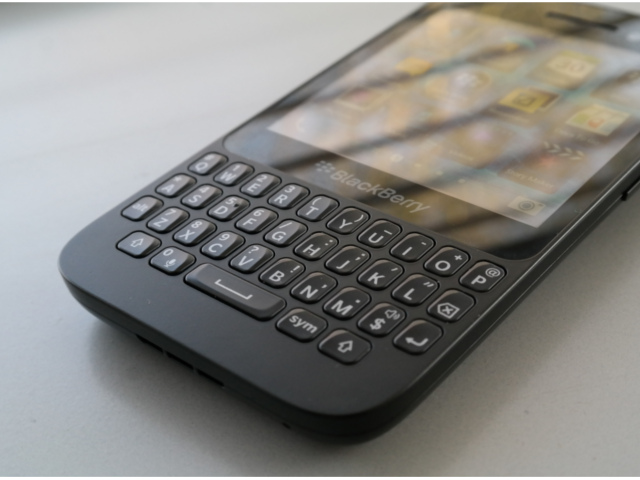 The BlackBerry Q5 offers a good touch-and-type experience via its 3.1" touchscreen and physcial QWERTY keyboard.
Hardware
The driving force behind the Q5 is Qualcomm's Snapdragon S4 dual-core CPU running at 1.2 GHz per core, and as with its BlackBerry 10-running stablemates, the Q5 boasts a very good 2 GB worth of multitask-accommodating RAM.
This duo delivered a snappy and smooth experience whilst navigating the OS, starting-, closing- and running multiple apps at the same time. Games such as Stick Cricket Super Sixes do take a second or two longer to load than on the Z10 (review), but once loaded it runs as smoothly as on the Q10.
It has to be mentioned though that the limited screen real estate does not result in the best mobile gaming- or video viewing experience. Browsing the web via the BlackBerry browser is snappy with quick page loads and fluid pinch to zoom, double tap to zoom and scrolling touch gestures.
The Canadian company is also one of the few remaining firms to offer native Flash support in their browser, meaning that virtually any page opens correctly in the browser. Unfortunately, the small display leads to a lot of pinching in to read text and scrolling around the page.
The Q5 sports a 5 MP rear-facing camera that can record full HD (1080p) videos and capture HDR photos, along with a 2 MP front-facing snapper that can shoot 720p videos and makes taking selfies easier. Both these cameras are not on par with modern smartphone cameras, since it offers average photos in good lighting conditions and paltry quality pics at night.
Users have access to 8 GB worth of internal storage for photos, videos and apps, but are able to expand upon this via microSD card slot by as much as 32 GB. Additional features includes Wi-Fi 802.11 n, blistering download speed thanks to LTE (4G) connectivity, Bluetooth v4.0, and NFC.
Also onboard is a non-removable 2180 mAh Li-Ion battery that delivers surprisingly good battery life, thanks to the smartphone packing a larger unit than the 1800 mAh Li-Ion battery utilised in the BlackBerry Z10. Your smartphone will definitely last the entirety of a full working day, as we averaged around 12 and a half hours of usage from a single charge.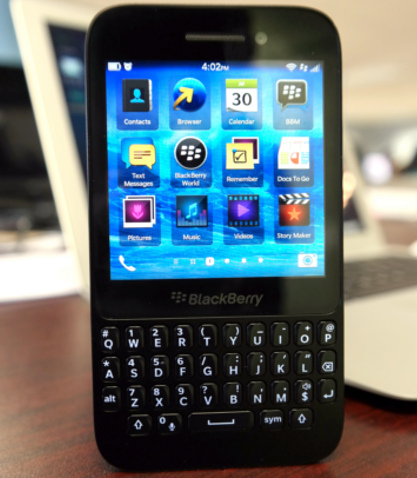 BlackBerry's Q5 offers plenty of middleweight hardware and software punch, but is a featherweight when it comes to design.
Software
In our opinion, BlackBerry 10 is a much more rounded mobile operating system compared to Windows Phone 8. The Q5 offers the latest version, namely BlackBerry 10.1, straight out the box. This updated version of the OS adds a few new software features such as an HDR (high dynamic range) shooting mode for the camera, landscape support for the calendar, as well as enhanced red eye reduction functionality within the photo editor.
The achilles heel of BlackBerry 10 remains the app selection in BlackBerry World, even though BlackBerry has made some ground after the launch of the new platform. BlackBerry World with its 120 000+ applications is now the fourth biggest app purveyor after the App Store (900 000+), Google Play (800 000+), and Windows Phone Store (145 000+). Hot apps are still nowhere to be found including Instagram, Flipboard, a native YouTube app, and Vine.
(For a detailed take on BlackBerry 10 read part two of our BlackBerry Z10 review.)
To the point
BlackBerry's Q5 boasts enough hardware and software punch to deliver the same touch-and-type experience that can be found on the Q10.
If the Canadian company provided this smartphone with the same styling approach as it did for the Q10, it might have turned it into the equivalent of a BMW 3-Series, which is a more compact and affordable version of the range-topping 7-Series. However the cheap nature of the Q5's design and still relatively high pricing point of R5 000, means that its more of a 1-Series with a 3-Series pricetag.
If you are just looking for an excellent mid-range smartphone costing in the region of R5 000, then there are plenty of full touch, similarly specced devices available that offer way more applications and games. These include the Nokia Lumia 720 (review, R5 400), and Sony Xperia V (R5 500).
That dwindling smartphone user population who cannot use a device without a QWERTY keyboard will have most of their smartphone needs met by the Q5.
Pros:
Good display.
Snappy performance from CPU and RAM.
Runs the latest BlackBerry OS software out of the box.
One of the only browser that still offers native Flash support.
A lot more affordable than a Q10.
Battery life better than on the Z10.
Cons:
Looks and feels cheap.
Limited screen real estate not conducive to good movie viewing or web-browsing experience.
Average camera performance at best, paltry performance in bad lighting conditions.

Good display; snappy performance from CPU and RAM; runs the latest BlackBerry OS software out of the box; one of the only mobile browsers that still offers native Flash support; a lot more affordable than a Q10; and better battery life than on the Z10.

Looks and feels cheap; limited screen real estate not conducive to good movie viewing or web-browsing experience; and average camera performance at best, paltry performance in bad lighting conditions.