Sony has a good thing going with its latest mobile devices. We've seen it with the Xperia Z (review) and Tablet Z (review), now it's going mid-range via the V.
It's interesting to see how fast smartphones progress. When we benchmarked the top of the range Samsung Galaxy S3 (review) in Smartbench 2012 last year, it managed a very impressive 4064 and 1606 in the Performance and Gaming index respectively. The new mid-range Sony Xperia V averaged a better score (3495 and 2936) than the S3, one of the leading flagships of last year.
This is testament to the fact that mid-range phones in many instances hit the sweet spot when weighing up functionality vs. price. In our opinion, the Sony Xperia V with its RRP of R5 500 comes close to the bulls-eye, also containing LTE connectivity for superfast downloads.
A lot onboard
Powering the phone is Qualcomm's Snapdragon S4 Plus processor running at 1.5 GHz on each of the two cores, teamed with 1 GB of RAM. Sony includes 8 GB of onboard storage, which we would recommend expanding via microSD card (up to 32 GB).
Just like the Xperia Z and Tablet Z, the Xperia V is also water- and dustproof, with the company claiming it can be submerged in one metre of water for up to 30 minutes. We love this, seeing that we've succumbed to waterlogged smartphones in the past.
As far as size is concerned, the Xperia V is neither too big nor too small. The 4.3" (720 x 1280, 342 ppi) will do just fine in most cases, catering to those for whom 5" is simply too much or for whom the 4" on offer on the iPhone 5 (review) is too little.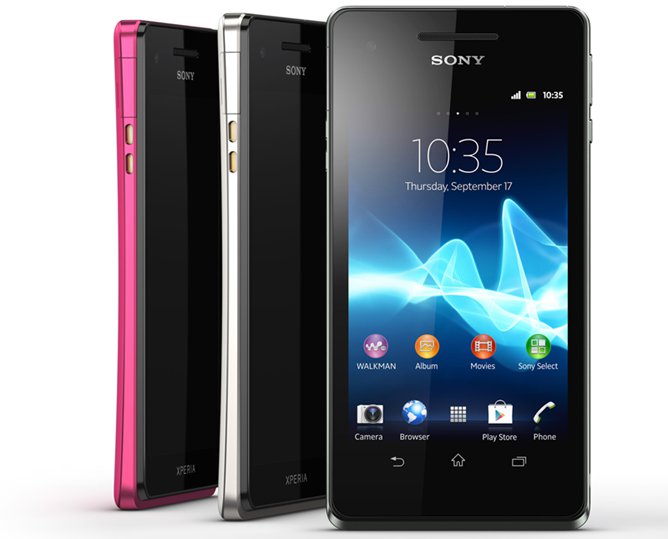 To the point
The specs and waterproofing of the Xperia V make it very difficult to fault this phone. We might mention that Sony includes the Android navigation buttons (Back, Home and Running apps) in the screen itself, effectively eating into the 4.3" screen real estate on offer; or that the 13 megapixel camera's lens is not as wide as we would have liked (it is fast at f2.4 though).
But for now we think the Sony Xperia V is one of the best midrange phones on the market.

Waterproof, good value for money, 4.3" screen, LTE enabled

Sony includes the navigation buttons onscreen, lens not as wide as we would like, volume rocker a bit small