Continued from part 1 discussing the BlackBerry Z10's hardware.
Top software features
Forget everything you know about the
old BlackBerry platforms
, with BlackBerry 10, the Canadian company starts on a fresh page. It brings a more up-to-date feel and some intuitive swipe navigation to the table, some of which we would not have minded seeing on other devices.
TechSmart video: BlackBerry Z10 Software - What you need to know
General navigation
On the Z10 there's no home button. Here you exit apps by swiping up from the bottom bezel of the phone, which takes you to the homescreen and shows up to eight currently running ups. Want to close an app completely? Do it here, or simply swipe left to continue browsing your list of apps.
It's a very intuitive way of navigating the new operating system, and when starting to test other phones again, the swipe up gesture was the most missed. We're not completely sold on the idea of rows and rows of apps to scroll through to find what you are looking for (much like
iOS
), so make sure you place your most used apps on the screen that follows directly after you swipe left from your current running apps on the home screen.
BlackBerry 10 also makes it easy to access your settings or connectivity options, including Wi-Fi and Bluetooth, via a pull down menu which you access by swiping down from the top bezel. If you swipe down within an app, you can access a contextualised settings menu for that particular app. This gesture has now replaced the old menu key on
previous generation BlackBerry smartphones
.
For BlackBerry users that are used to the old way of doing business, this might take a day or two to get used to, but, once into it, using the Z10 becomes a breeze.
The new homescreen enables users to quickly switch between running apps or close them.
BlackBerry Hub
When it comes to BlackBerry 10, the star of the show is definitely BlackBerry Hub. It's a central location to manage all your conversations, whether these are SMSes, email, BBM messages, or notifications from
Facebook
,
LinkedIn
or
Twitter
. The fact that you can check your messages without having to close applications is a treat, since the Hub is accessible from anywhere in the OS. When that red LED starts blinking, simply swipe up to reveal the type of notification received. Swipe right to get more detail on the message.

This is very quick and works well, plus it is a lot less intrusive than having to jump from one app to the next.
But, it's not without its flaws. For example, if you just sent an SMS and did not exit to the main Hub screen, when you receive an email (or any other message) and enter the the Hub, it will take you straight back to your SMS conversation and not directly to the new email.
Another hassle is that although the lock screen displays the amount of Facebook messages, email, BBMs, notifications and tweets, you cannot enter to these directly as on Android and iOS devices. You need to enter the phone, exit whatever application you were busy with last and then enter the Hub.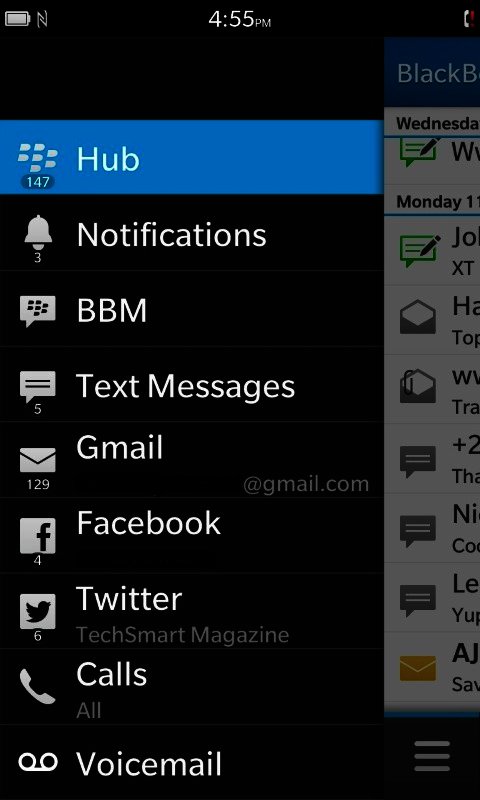 Don't you just wish there was a rendezvous for all your notifications and messages? Well, wish granted and it's called BlackBerry Hub.
BlackBerry Keyboard
In the past RIM were renowned for their physical keyboards, and we can now say that the Z10 contains the best virtual keyboard in the business. Yes, even better than the renowned SwiftKey for Android.

It works by intuitively predicting the word you might be typing, by providing complete words on what might be your next letter. For example, starting off by typing 'W' and the keyboard predicts the following: 'We' on the letter 'E', 'Will' on the letter 'I' and 'What' on the letter 'H'. Flick upwards on the letter and your word pops into the message. It's not completely without its problems though, as the spacebar is a little too close to the edge of the bezel, which means when we flicked the word that appeared on there, we exited the screen.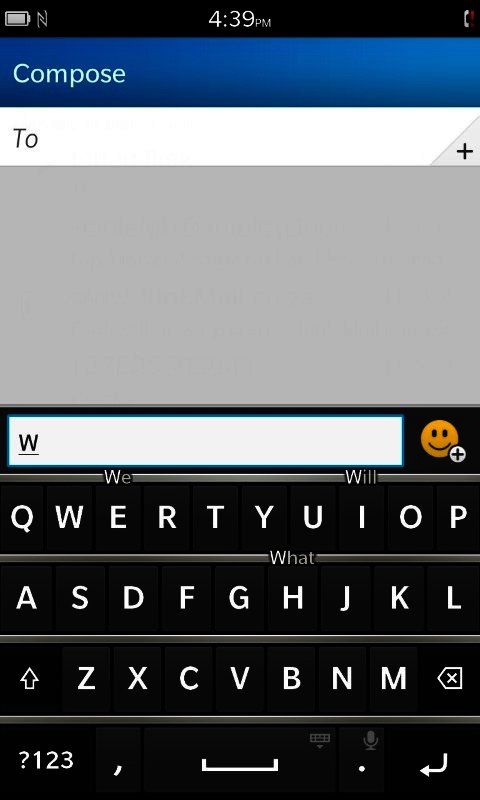 The new BlackBerry Keyboard allows users to say more and type less.
Camera features
Camera functionality of the Z10 has also benefitted from the new OS, with two BlackBerry 10 features in particular enhancing your creativity. The first of these is Time Shift, which records burst shots before the actual image. Gone are those closed eyes moments, simply select the correct image by dragging the scroll bar and save when you are happy.

The other feature is Story Maker, which allows users to create an HD movie that can be easily shared over social networks, BBM, or even YouTube. To create a movie, users are able to add photos, videos, and music from respective galleries. Add to this transition effects, credits, and even filters and you'll have a good looking film in no time. This works extremely well for example after a weekend spent on holiday, to provide a concise, good-looking summary of what happened.
BlackBerry World
Being a new platform, the BlackBerry World storefront currently only boasts around 70 000 BlackBerry 10 apps, which is a far cry from the 800 000 apps available in
Apple's App Store
or Google's Play. This means there a lot of in-demand apps users currently will not find on
BlackBerry World
, including BBM alternatives such as Whatsapp and Facebook Messenger, and others such as Instagram and Skype. Skype and WhatsApp have been confirmed for BlackBerry 10, but when we tested the phone they have not arrived yet (WhatsApp
has become available
in the mean time).
New features that are welcomed wholeheartedly within BlackBerry World, is that, much like other platforms, you now do not have to restart your device every single time you download or update a new app. Users are also able to buy music within BlackBerry World, with single tracks going for about R9 and whole albums coming in at R80, saving you a bit of cash compared to forking out R130 for a physical CD. TV series and movies are not available for download locally.
A great deal of the success of BlackBerry 10 will depend on the company's ability to draw app developers to expand the new ecosystem. The fact that BB10 was delayed certainly did not help, and BlackBerry would have to keep pushing to get the top titles from the other markets also onto BlackBerry World.
To see that this is desperately needed, one only needs to look at the quality and quantity of games available in BlackBerry World, compared to those on offer in Google Play and the App Store.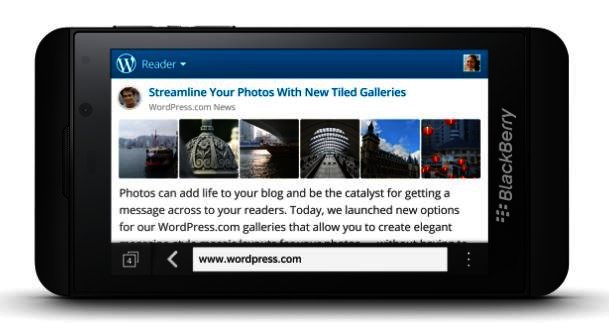 To the point
The BlackBerry Z10 is without a doubt the best smartphone the Canadian firm has ever produced. This news will be best received by existing users of the BlackBerry platform, since life can continue within a familiar environment.
With the Z10, one can stay with the BlackBerry platform, seeing that it is on-par with other smartphones currently on offer. The question is will BlackBerry users continue doing so, especially with
BIS now something of the past
? For the first time ever, BlackBerry users will have to monitor their data usage and buy data bundles just like all the rest.
BlackBerry does own the lion's share of the local smartphone market (almost half of all smartphones are BlackBerrys), mostly as a result of BIS. So in a way, the company's key advantage that prevented cost-conscious users from switching to a better specced Android device
is now gone
.
If this will be a problem in the higher-end of the market remains to be seen, since unlike the Curve range, the Z10 competes against the likes of the Samsung Galaxy S3 and iPhone 5, retailing for about R390 per month on contract.
Another problem is also right round the corner. The next generation smartphones, most with full HD screens and even faster processors (
HTC One
,
Sony Xperia Z
,
Samsung Galaxy SIV
), are ready to pounce. It would have been much better if the Z10 entered the market in 2012, finding more traction before the new superphones enter the mobile ring.
We can say that, much like QNX on the BlackBerry Playbook (
review
), we are impressed with BlackBerry 10. It makes for a solid smartphone experience, in certain cases even improving on iOS and Android. There are bugs to be sorted out, but it's a young platform so it can be expected.
BlackBerry must now task itself with seriously improving on its app offerings, since we can't really recommend switching from the fruit company or little green robot with so many key apps lacking.
Pros
Eye-catching design
Great display
Good camera capable
CPU coupled with lots of RAM
Plenty of connectivity options
Intuitive, gesture based OS
Cons
Battery life not class leading
Will be competing with better specced devices soon
App tally on BlackBerry World far behind the competition
Article written by Mike Joubert and Hanleigh Daniels.

Eye-catching design; great display; good camera capable; CPU coupled with lots of RAM; plenty of connectivity options; and intuitive, gesture based OS.

Battery life not class leading; will be competing with better specced devices this year; and app tally on BlackBerry World behind the competition