BlackBerry holding firm RIM (Research In Motion) is aiming to stake a bigger smartphone market claim during 2013 via its upcoming BlackBerry 10 OS (operating system). Until then, BlackBerry fans have to make due with the BlackBerry 7.1 platform, which powers devices such as the new BlackBerry Curve 9320 smartphone.

New OS 7.1 features

The Curve 9320 operates on the Canadian smartphone and tablet maker's latest OS namely BlackBerry 7.1 OS, which brings some new features to RIM's mobile platform table. The first of these is built-in FM Radio (also available on the BlackBerry Curve 9380). Whilst your headset is connected to the device, you are able to launch the easy to use FM Radio tuner app and use this application to listen to your favourite local radio stations.

Also new to RIM devices is a feature that has been available on Android-based devices and iOS-powered smartphones and tablets for a while now, which is the ability to share an internet connection over Wi-Fi with up to five other devices.

Using the Curve 9320's mobile hotspot functionality, users are able to do just that. This feature is easy enough to employ, since users only need to create a Mobile Hotspot account and set a password for this account (done only once). Then you simply select the Manage Connections area at the top of the homescreen and turn Mobile Hotspot on (automatically turns Wi-Fi on as well).

Next you search for your device on the list of available connections, select it and enter the password. Remember though, in order to make use of this feature users need to make sure that they have loaded a data bundle on their device or have enough airtime available to be converted into data, since the BIS (BlackBerry Internet Service) subscription only covers on-device browsing.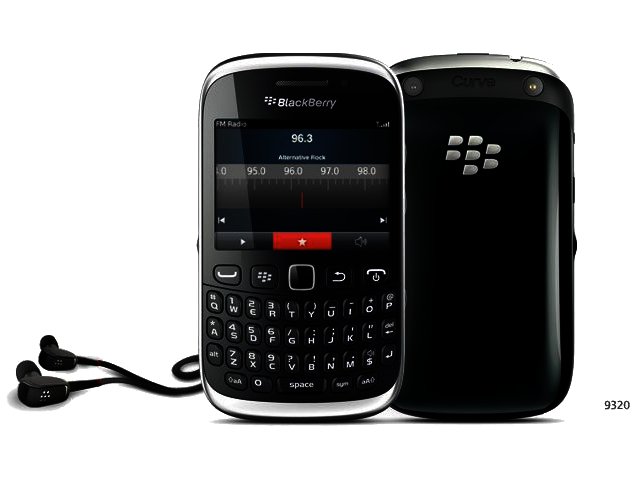 Under the Canadian hood

Powering the Curve 9320 smartphone is a single-core 806 MHz processor (make unspecified), which does an impressive job of keeping things running smoothly within the OS, even whilst multitasking. Assisting the CPU in multitasking is the 9320's fair amount (512 MB) of RAM.

However, there is often some noticeable lag when running various data intensive apps at the same time such as Facebook, Twitter and BlackBerry App World. This lagginess is made worse if you are in a bad reception area on a EDGE connection.

Design

RIM's newest Curve measures in at 109 x 60 x 12.7 mm and weighs 103 g, making it far more pocketable than most of the latest high-end devices and their 4"+ screen sizes.

In comparison to these though, it sports a small 2.44" (320 x 240 pixels, 164 ppi pixel density) display. This screen (non touch-enabled) might not allow for the most eye-popping pixel density ever, but due to its reduced size, it displays pictures better than other devices on the budget range such as LG's Optimus L3 E400 (125 ppi) and Samsung's Galaxy Pocket (143 ppi).

Right beneath this display we find the usual row of key BlackBerry buttons, with these being the call answer key, menu key, five-way directional optical trackpad, back button and the end call key (power off). We found the conventional Curve QWERTY keyboard of the 9320 a joy to type on since it features the same separated, rounded keys as found on the Curve 9360.

Another key (pardon the pun) feature setting the 9320 apart is its convenience key on the left side of the smartphone, which has been branded with a BBM (BlackBerry Messenger) moniker and by default takes you to BBM (can be reprogrammed).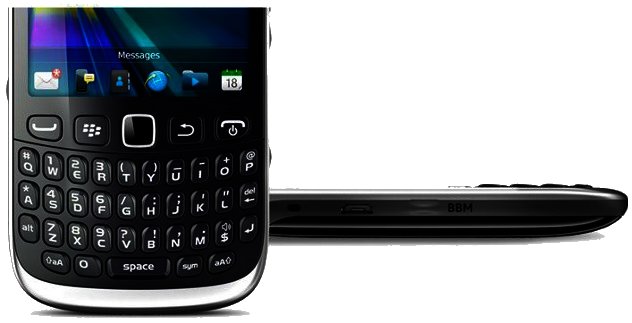 Other features

Beyond the customisable appeal of the dedicated BBM key, the Curve 9320 offers 3G HSDPA connectivity featuring download speeds of up to 7.2 Mbps and uploads speeds of up to 5.76 Mbps. In addition this smartphone boasts Wi-Fi 802.11 n and a hotswoppable microSD slot that supports cards up to 32 GB in size, with users getting a 2 GB card in the retail box. Included too is a 3.15 MP camera with LED flash that takes unimpressive stills and is capable of recording VGA (640 x 480) videos.

Also aboard the Curve 9320 smartphone spec express is GPS with A-GPS support, Bluetooth v2.1 with A2DP, as well as much larger Li-Ion battery (1 450 mAh) than the 1 000 mAh one found in the Curve 9360. Coupled with the new Battery Saving Mode which is part of BlackBerry 7.1 OS, you can expect a fairly good battery life of well over a day and a half (two if you are not a power user).

The Battery Saving Mode enables BlackBerry users to extend the battery life of their smartphone by automatically adjusting the device's settings when the battery power reaches a predefined level (20% by default). Some of the settings this mode will automatically configure include the display brightness level, backlight timeout, as well as the mobile hotspot auto shutdown timer.

To the point

RIM's BlackBerry Curve 9320 smartphone delivers a few new features the likes of FM Radio, Battery Saving Mode and Mobile Hotspot functionality to the Curve feature table. BlackBerry Curve fanboys will appreciate the fact that this device runs on the latest firmware from the Canadian firm's stable, as well as the convenience of the BBM shortcut key.

It goes for a recommended retail price of R3 000, which makes it a lot cheaper than the Curve 9360 (R4 000) and 9380 (R3 800) and places this smartphone in the same price league as some tough Android competition such as the Samsung Galaxy Gio (R2 000) and HTC ChaCha (R2 350). Additionally, the RRP of Android competitors have dropped to below the R1500 mark with more affordable devices like LG's Optimus L3 E400 (R1 400) and Samsung's Galaxy Pocket (R1 000) becoming available.

These Android-running devices feature a more engaging mobile OS experience and access to an app store (Google Play Store), which sports a much larger collection of apps. However we do not expect this to deter the majority of BBM fans from upgrading to the Curve 9320. This is because its appeal (as with most other BB smartphones) lies in BBM, the popularity of the BlackBerry brand locally, as well as the worry free data experience available via BIS since it offers free on-device browsing, BBM, social networking connectivity (Facebook, Mxit and Twitter), access to BlackBerry App World and email.
Pros:

Brings FM Radio functionality, mobile hotspot functionality; runs on latest BlackBerry OS; grip-friendly and pocketable design; excellent physical Curve keyboard; convenient BBM key; great battery life and snappy 806 MHz CPU.

Cons:

Small display that offers less so-so resolution; VGA video recording ability as opposed to HD-Ready (720p); competition has more appealing operating system and better stocked application stores.

Brings FM Radio functionality, mobile hotspot functionality runs on latest BlackBerry OS grip-friendly and pocketable design excellent physical Curve keyboard convenient BBM key great battery life and snappy 806 MHz CPU.

Small display that offers less so-so resolution; VGA video recording ability as opposed to HD-Ready (720p); competition has more appealing operating system and better stocked application stores.