Smartphone buyers looking for a budget-friendly mobile device no longer have to settle for underpowered devices with unimpressive displays, as this price category is inhabited by some capable performers including the Samsung Galaxy Gio and HTC ChaCha.

Asia's second largest smartphone maker, HTC, throws its Wildfire S (promo video posted below) into the entry-level ring, hoping to attract users with its stylish design and premium user experience.

Design

This sturdily constructed and robust HTC Wildfire S is extremely comfortable to hold and almost unnoticeable in your pocket, as it measures in at a 101.3 x 59.4 x 12.4 mm, and weighs a mere 105 g. Its ivory coloured plastic look is nicely contrasted by a silver soft touch plastic finish around the smartphone's edges and camera, much like HTC's Flyer tablet. This allows it to come across as a more stylish and upmarket device than the rather plain black design of the Samsung Galaxy Gio.

The smartphone boasts a 3.2" (320 x 480 pixels, 180 ppi pixel density) TFT capacitive touchscreen, which is much better that the previous Wildfire's 3.2" (240 x 320 pixels) display. It also features Gorilla Glass, which provides extra protection as well as durability - a really impressive feature on a budget-friendly device.

Like the Samsung Galaxy Gio's display sports some really good viewing angles and nicely saturated colours. This isn't very surprising as it sports the same display size, type and resolution as the budget entry from Samsung. Like its Korean counterpart, the Wildfire S is also privy to displaying reflections when used outdoors in direct sunlight.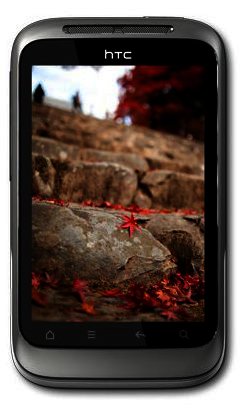 Sensible skin

You employ that vibrant and responsive dispay to navigate the device's operating system (OS), which in this case is Google's latest Android 2.3 (Gingerbread) with HTC's Sense 2.1 skin running atop of it (same as on the Desire S).

We are avid fans of the company's Sense interface that flies between integrated social feeds, the best apps arrangement in the business and intuitive accessibility to numerous functions, all while still retaining Android's familiarity. Another aspect that's worth highlighting is HTC's widgets, which are gorgeous in their design and incredibly practical in terms of their user friendliness.

Our only real gripe with the device concerning its usability is that this interface requires some oomph in terms of processing power, because of the graphical nature of the widgets. HTC has opted to power this device with a 600 MHz Snapdragon MSM7227 CPU (old Wildfire used a 528 MHz CPU), with the graphics being handled by an Adreno 200 GPU and 512 MB RAM (418 MB user-available).

Unlike with the HTC ChaCha that packs a 800 MHz processor, the interface was noticeably laggy on occasion, which was kind of annoying and does detract from the coolness factor that this fantastic skin brings to this budget smartphone.

Samsung's Galaxy Gio offers a much better processing performance with its Qualcomm's QCT MSM7227-1 Turbo 800 MHz processor. Its Smartbench 2011 Productivity Index score of 577 and Games Index score of 977, managed to beat both the HTC ChaCha (361 and 516 respectively) and HTC's Wildfire S (331 and 736 respectively) during tests.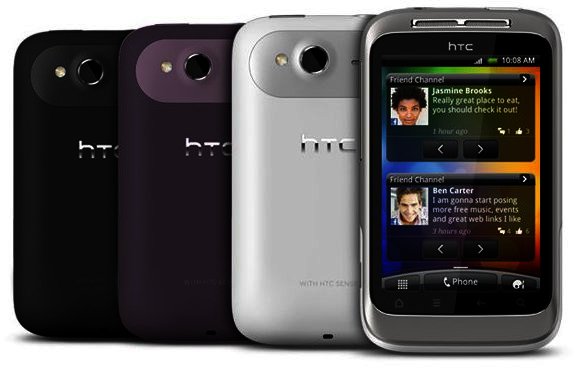 Other features

Other than its underwhelming processor, users can employ the Wildfire S's 5 MP auto-focus camera with LED flash to capture some good-looking, but not extraordinary photos. This snapper doesn't enable you to record HD-Ready (720p) videos, which seems to have become in-vogue with a lot of manufacturers of late, but can record VGA video at 24 fps. Whilst the level of detail and frame rate is much better than the video quality that the Samsung Galaxy Gio's snapper delivers, it's definitely not the smoothest, since it's still partial to some jerkiness.

Also onboard is 3G HSDPA, GPS with a-GPS support, Wi-Fi 802.11 n, Bluetooth 3.0 with A2DP and EDR, and a microSD card slot that supports cards up to 32 GB in size, with a 2 GB card included in the box.

Final word

HTC's Wildfire S features a stylish look and feel and a gorgeous, user-friendly interface. It does unfortunately suffer from some lag and the device isn't the most affordable in the entry-level league, going for a recommended retail price of R2888. This makes it a lot more expensive than the Samsung Gio (R1999) which includes a better CPU albeit with a drab design, while also out-pricing the HTC ChaCha (R2350) and LG Optimus One (R2499).

Pros

Good-looking design, robust and sturdy build quality, great Gorilla Glass screen.

Cons

Not the cheapest device in the budget Android-running crowd and ever so often noticeably laggy.

Good-looking design, robust and sturdy build quality, great Gorilla Glass screen.

Not the cheapest device in the budget Android-running crowd and ever so often noticeably laggy.