If 2014 can be categorised in terms of its smartphone trends, the major one would be a focus on devices that sport much larger displays than in the past. So much so than if one's smartphone is not fitted with a 5" or larger screen, it's deemed a little technologically behind the times. If screen size ranks high on your list of mobile device requirements, the Infinity Maxe X1 from Chinese manufacturer Hisense will please you no end.
Tablets beware
When the X1 first landed on our review desk, we were initially taken aback by its sheer dimensions. Once we found out that the X1 was a Hisense product, it became all the more intriguing, specifically as Hisense is a smartphone manufacturer with a relatively unknown presence locally, being more known for its TVs.
Let's get the obvious out the way though, the Infinity Maxe X1 is not discreet, from a size perspective, so much so that no conventional pocket made by man can house this 6.8" monster. With that being said, one thing its display does afford, is fantastic full HD viewing quality (1920x1080) that registers a 324 ppi pixel density. That may not sound impressive given the recent class leading specs touted by the LG G3 (534 ppi), but the X1's ppi is on par with the 7" Asus Google Nexus 7 tablet (323 ppi). The screen retains a strong level of clarity and brightness, an important consideration when using the X1 outside the confines of one's dark and dingy office.
Indeed, the X1 seems perfectly suited for use as a multimedia device, with a landscape orientation lending itself well to playing games or viewing videos and movies. How much of one's time will truly be spent watching videos on your smartphone is up for debate, but as mobile devices begin to overtake conventional viewing mediums like televisions, a large and bright screen will certainly prove valuable.
Small shortcomings
If the X1's display catches your eye, the rest of the device falls rather flat from a design perspective, with Hisense favouring a rather plain looking white plastic back cover. The front portion features brushed aluminium accents at the top and bottom of the device that serve little more purpose than framing that Grand Canyon sized screen.
The one slight downside with the 6.8" display and Android-based interface favoured by the Maxe X1, is its the scaling of applications, and icons in particular. They appear a bit too small in relation to the size of the display, and can leave one with either expanses of unused space or a screen that looks cluttered. In the greater scheme of things, this may not be pivotal aspect to some while weighing up a possible purchase of the Maxe X1, but can create a bit of an eyesore to a device that impressed greatly thus far.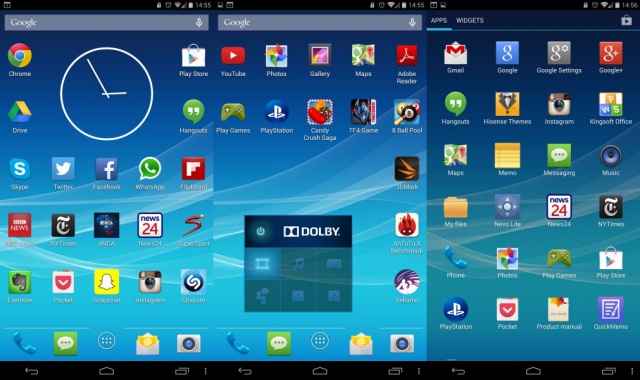 Interior matches exterior
When we powered up the Infinity Maxe X1, we were pleasantly surprised by the fact it was running the latest version of Android, 4.4.2 (KitKat), an aspect that some Asian manufacturers sometimes neglect when launching their phone is SA. This version of Android is supported by a strong chipset and memory setup, with Hisense integrating a quad-core 2.3 GHz Snapdragon 800 processor and 2 GB of RAM. Added to this is 16 GB of on-board storage and microSD slot for up to 128 GB of expandable memory.
As expected, this resulted in a strong showing as far as benchmark testing goes, with the Maxe X1 outperforming the Xperia Z2, both smartphone (review) and tablet (review) variants with a total score of 34371 on AnTuTu X. It also posted a better result on 3D Mark's Ice Storm Unlimited test than the Galaxy S5 (review), registering 18713. A performance like that is usually warranted for devices around the R9k mark, with most users not even batting an eye at that price tag. This is what makes the Infinity Maxe X1 such great value for money with it commanding no more than R5 000 from local retailers.
Added extras
Not content with simply providing a fantastic screen and chipset setup, Hisense has fitted a 13 megapixel primary camera in the rear and 5 megapixel front facing secondary camera. The primary camera is not class leading among smartphones, but it's certainly one of the best one can find on similarly priced phablets. Image quality is sharp enough for use in both high and low level light conditions, with the one down side being the length of time for autofocus. It may not possess the speed of the Galaxy S5 or LG G3, but the Maxe X1 is strong enough to compete with the quality of its phablet rivals.
Battery life may be one of the areas pushed to the wayside when viewing a device's specs, but Hisense have thankfully incorporated a large 3900 mAh unit on the Maxe X1, which aids in ensuring users get a solid 15 hours worth of use from its 6.8" display. Added to this is both 3G and 4G/LTE network compatibility, as well as Bluetooth 4.0 connectivity.
Final verdict
When we reviewed Nokia's budget friendly 6" phablet, the Lumia 1320 (review), we overlooked many of its spec-related shortcomings as it only cost R5 000 and still provided a relatively strong smartphone experience. In comparison, the Infinity Maxe X1 offers an even stronger level of performance, with the added benefit of 0.8" of screen real-estate extra, while still retaining a similar price of R5 000. It naturally follows then that the Maxe X1 is undoubtedly fantastic value for money, and sets the bar fairly high as the trend of larger phablets with lower prices begin to pop up with greater regularity.
It may have some niggles, such as the cheap looking plastic back cover and high propensity for picking up smudges and streaks, but all of this can be forgiven if a large display complemented by an acute set of internal components is what you're looking for in a smartphone. When you throw its attractive price point of R5 000, the Hisense Infinity Maxe X1 may just be one of the best phablets currently available in SA at the moment. We only hope that an unrecognised brand like Hisense (in terms of smartphones at least) will provide the kind of local exposure that this well-built device deserves.

Bright and crisp display; Solid battery life; Great for media viewing

Back cover slightly flimsy; Screen picks up smudges easily