Over the past few years, Huawei has set a very ambitious goal of being in the same company as Samsung and Apple. While it has not reached that plateau just yet, its 2016 slated devices are definite moves in the right direction. The latest offering to see the light of day is the Mate 8, a 6" phablet that's designed to be a slightly less expensive alternative to the Galaxy Note 5 (review). On specs alone, this flagship phablet seems to measure up quite nicely.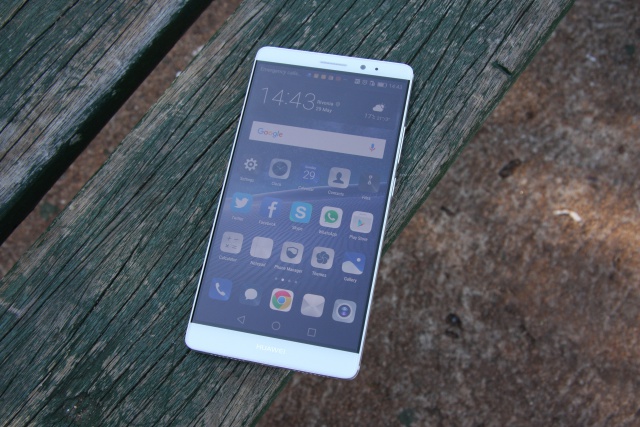 Phablet plus
The Mate 8 is big, even by phablet standards. For some, the 6" frame might prove a little unwieldy. Exacerbating matters is its thinness at 7.9 mm and lack of anything tangible on the edges to grip onto. Consequently, you'll be operating the Mate 8 with two hands, for even the most basic of functions like unlocking the device.
In that respect, there's the usual pattern and pin methods, but added to it is a fingerprint sensor on the back cover. It's located just below the primary camera and is very responsive. A nice touch is the ability to unlock the device without having to first press the power button, as you find on an iPhone.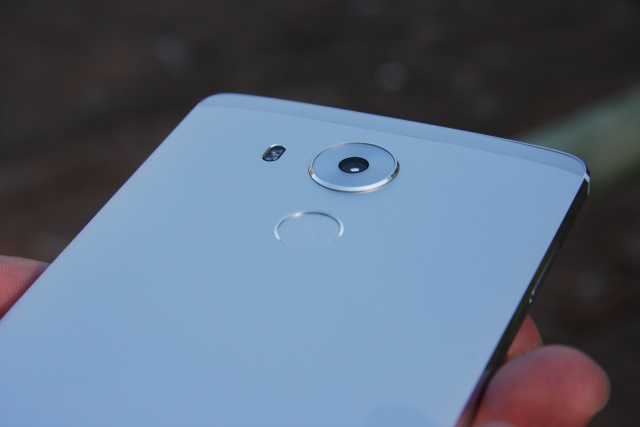 The rest of the device is kitted out with the types of components one expects from a phablet that costs R13k. The generous real estate afforded by 6" of screen makes the trend of phablets outselling their larger tablet brethren very easy to understand, and the 6" IPS-NEO LCD display (1920x1080) serves up a 368 ppi pixel density. That's not enough to eclipse the likes of the 5.7" Note 5 at 518 ppi, but I never felt that the Mate 8"s screen was underwhelming when viewing videos or playing games. In fact, for that kind of use the Mate 8 is perfectly suited.
It does have one drawback in my opinion. I've always been an advocate for a stylus on any device north of 5.5", and it is one thing that Samsung's Note range is known for. Consequently the introduction of a stylus would have made the Mate 8's user experience far better. Furthermore, there aren't any real applications or functions that capitalise on the larger screen of the Mate 8. There is a dual window mode for multitasking, but nothing else beside that.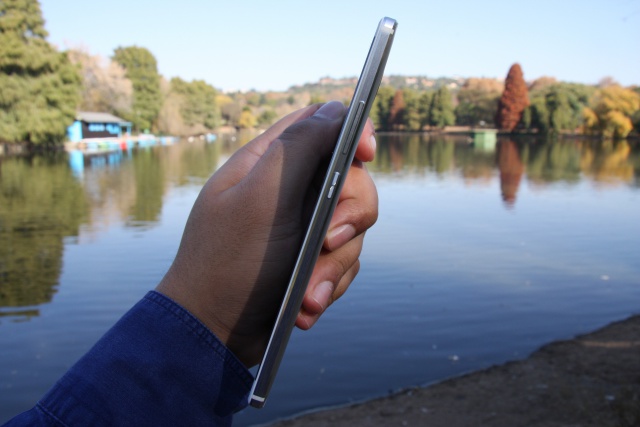 Flagship heart
Moving a layer deeper, the Mate 8 proves equally as impressive. Huawei has opted for an octa-core processor setup powered by HiSilicon. This Kirin 950 chipset is made up of two quad-cores, clocked at a rather rapid 2.3 GHz and 1.8 Ghz respectively. Added to this is 3 GB of RAM, which is available on the 32 GB onboard storage model. There is a larger 4 GB RAM version, but that's exclusive to the 64 GB variant.
While having 4 GB of RAM would've been nice, the smaller version is no way left wanting. This proved evident while benchmark testing. The Mate 8 recorded a total score of 88 746 on AnTuTu (v6.1.4), which is a slight bit more than the similarly specced Sony Xperia Z5 Premium's (review) 78 255 mark. It should be noted that it does heat up from time to time, particularly when some heavy duty multitasking is on the go. It never becomes worryingly hot, but it is something worth being aware of.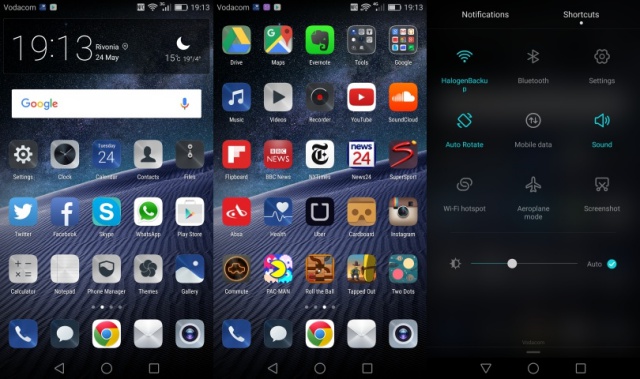 All day
Two other elements of the Mate 8 that Huawei has been talking up is its 16 MP camera and battery life. The latter comes courtesy of a sizeable 4000 mAh unit, which Huawei says can deliver up to two days worth of use. I'd agree with that estimate, but only if you use it intermittently. If you're more of high capacity user, it will manage the first day with ease, but will likely require a visit to a power point by the midway mark on the second. Nevertheless, it's indeed more battery life than one normally receives from a flagship phablet.
Moving onto the camera, which surprised in one way in particular - shooting indoors. Other phablet cameras of that size (13 MP to 16 MP) usually provide grainy looking pictures from low-light environments. There's none of that with the Mate 8. Granted, there is a slight grain when going all out on the zoom, but all in all, it's one of the better phablet cameras I've encountered of late.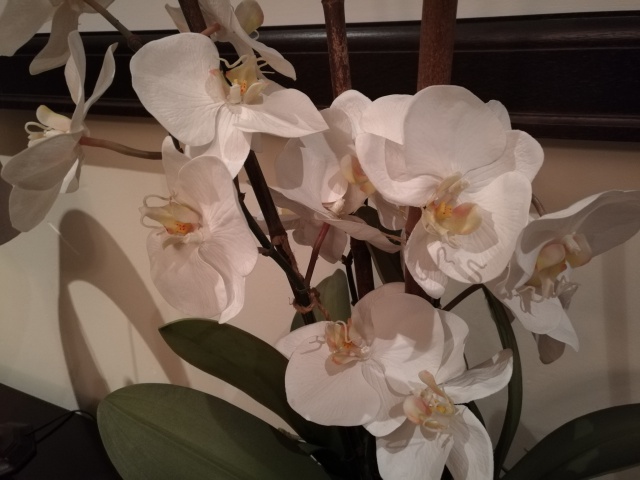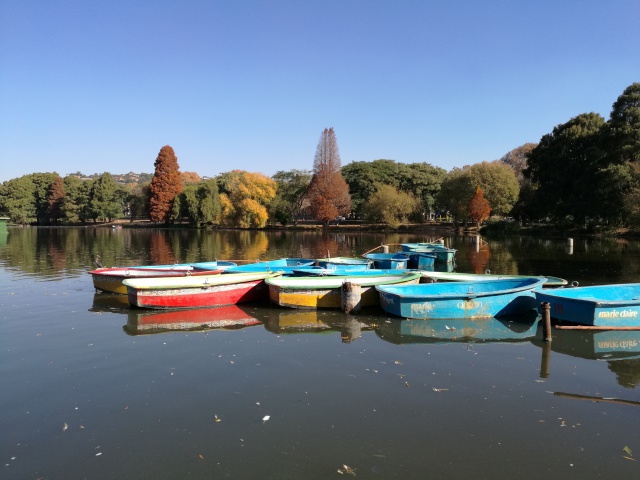 Sample Images.
The one to get?
The Huawei Mate 8 does a lot of things well. It's display is large and crisp, processor fast and responsive, camera surprisingly solid, and battery life more than ample. Is it the best phablet of 2016 so far? Yes. But is it better than the Samsung Galaxy Note 5? Not quite.
There are still some kinks to iron out with this phablet. It's not the easiest to handle, making the great 6" display a case of give and take. Also, the lack of stylus feels like a missed chance by Huawei. Furthermore, at R13 000 it's not cheap either, which makes it a tougher sell when placed alongside the 5.5" Galaxy S7 edge (review), or indeed the similarly sized Huawei P9 Plus and its Leica-certified cameras.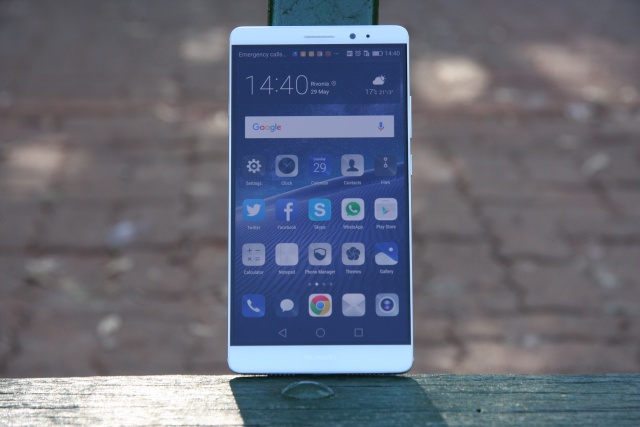 Generous and bright display; Superb battery life; Well constructed body

Thinness makes it difficult to handle; Would benefit from a stylus