In the smartphone market, and now more so with phablets taking centre stage, innovation is key. As is being the first to market, which is why the original G Flex proved such an intriguing concept for Android users. Its curve was something never truly seen before as a smartphone form factor, and to date it has not been embraced by other manufacturers. As far as why no one else has tried their hand at mastering smartphone/phablet bends, few answers can be found, but with the second iteration G Flex2, LG had to do more than simply serve up an interesting form factor.
Leaving a lasting impression
I first encountered the G Flex2 at an eventful local launch a few weeks ago. It may just be the free helicopter ride talking, but the G Flex2 performed well under pressure. Having to tweet, take photos all while negotiating banking helicopter turns was certainly one way to test out the G Flex2's credentials, and when it arrived on my review desk last week, I had high hopes indeed. I can safely say that it performed as well as expected, bearing all the hallmarks of a true flagship device, and a rather interesting Android rival to the Note 4.
Before I delve into the performance, let's take care of the more superficial elements. The curve remains at 23 degrees to be more precise, and features just enough drama to keep onlookers eyes fixed. So how big a difference does the curve make? In all honesty, not a lot apart from being an eye catching form factor. The curve does mean the Flex2 contours a tad better to one's face though, but call quality is not improved in this regard. The same can be said for multimedia, as videos watched in landscape look great when viewed head on, but seem a little distorted if viewed from the side. This is also an issue that creeps up with curved TVs and monitors in my past experience. In essence the curve provides users an interesting form factor, something outside the norm, but that's about it.
The Flex2 is also a tad smaller than the previous iteration at 5.5", shrinking by 0.2" compared to the original. A 5.5" display sporting device may sound unwieldy, but the curve helps a great deal in this regard, allowing the Flex2 to sit quite neatly in one's hand. It's also supremely light at 152 g, and while it may not slip into front pockets with ease, if you place it into a purse or handbag it won't prove bothersome.
Next on the agenda is its display, a 5.5" curved P-OLED version to be more accurate. As with its predecessor and indeed the G3 (review), the Flex2 offers superb screen quality, as colours pop and blacks are rich and deep. If I were to nitpick though, the screen is a tad more slippery than I'm use to, and upward swipes to scroll sometimes took my screen view further down than intended. Screen feel aside however, the Flex2's 403 ppi pixel density is something to behold.
Hot under the hood
Flipping over to the rear, the Flex2's quality begins to wane somewhat. There's a faux-metal effect on the removable back cover, akin to that of the G3, and as such is the only design concern I have of the Flex2. With a RRP of R10 500 (exclusive to Vodacom), one expects a little more in that department, and a stronger grade of plastic or in fact an aluminium back cover would've been better suited.
That being said, the new Flex2 does its best Wolverine impression by improving on the self-healing feature found in the original Flex. According to LG, the back cover is more than twice as fast at repairing surface scratches than its predecessor. Sadly I did not put this claim to the test, lest I be forced to for the bill for a repair myself.
One other problem is the high amount of heat the G Flex2 radiates when doing some heavy processing or updating numerous apps at once. It cooled down fairly quickly once the updates were completed, but this could cause a problem for users in the long run.
Let's get back to the good stuff: the Flex2's internal arsenal. In this case it is a Qualcomm Snapdragon 810 processor, comprising of a quad-core 1.5 GHz and quad-core 2 GHz setup. As expected, this yields a supremely powerful device, and as such receives a solid 2 GB of RAM. While benchmarking, the Flex2 impressed to no end, only being outscored by the Motorola Moto X (2nd Gen) (review) on AnTuTu (42351 for the Flex2).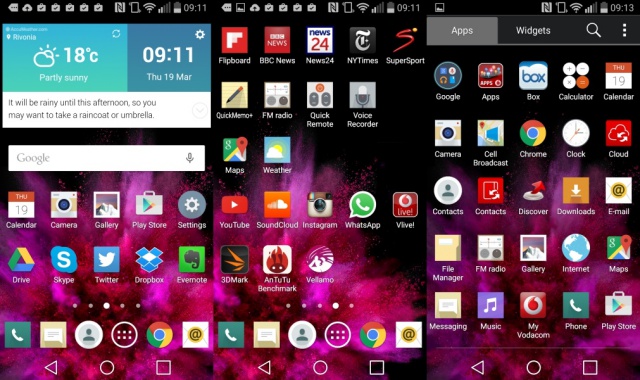 Best at both worlds
As a media dedicated device or an office-bound workhorse, the G Flex 2 is well equipped and proved equally adept at handling the demands of both spheres. Added to this is an option of a 3 GB version, which is paired with 32 GB of onboard memory. My review model is the 2 GB option, which comes with 16 GB worth of space. Should you want a little more, the removal of the back cover will show a microSD slot, good for an additional 128 GB.
One of the Flex2's other standouts is its camera setup, with a 13 MP one pulling duty on the rear, and a 2.1 MP option up front. The primary camera is both fast and crisp, hinging off of the OIS (optical image stabilisation) software first seen in the G3. As a result pics in low light and well lit conditions look great. For users aiming to pull off quick snaps on the fly, the Flex2 is very good indeed, performing on par with Samsung's S5.
The last element worth mentioning is battery life. LG has opted for a 3000 mAh version in the Flex2, which is lower than expected given the amount of power its screen and processor would need. Surprisingly though, the Flex2 can easily handle one and a half days under moderate use, and a full day under heavy use. There might be phablets with better battery life like the Note 4 and 6 Plus, but the Flex2 performs ably in this regard.
Final verdict
All in all, the Flex2 is a great phablet, and only suffers from a few niggles to dampen its overall experience. I can safely say that the Galaxy Note 4 and iPhone 6 Plus have a true rival. Priced on a relative par at R10 500, it will make the choice between all three a difficult one to make. If the Galaxy bloatware is off putting, or iOS too restrictive an OS, then the Flex2 would a great flagship phablet for any user to carry.
The Flex2 may not feature any major overhauls compared to its predecessor, but for those getting into the phablet market, few devices feature as much power and multitasking functionality as the Flex2, not to mention its curved form factor being rather eye catching.

Eye catching form factor; Powerful chipset and performance; Fast and accurate primary camera

Radiates a lot of heat when multitasking; Plastic back cover does not feel premium enough