It's been a long time since we've seen a cellphone on the market that's capable of rolling with the punches and live a hard-knock life, not to even talk of a slightly rugged smartphone. Up till now that is, thanks to Motorola's dustproof, water and scratch resistant Defy.
At first glance you won't attest to this Android-running smartphone's more rugged features, since it looks pretty much like any other smartphone. It's not particularly big, in fact its size (59 x 107 x 13.4 mm) and weight (118 grams) make it surprisingly comfortable. But as soon as you slip your SIM card in you can start telling the difference. Instead of just having a simple slide-in back-cover, the Defy's one firmly locks in place.
To keep water and dust out all ports on the phone, such as the 3.5 mm jack and Micro USB port on the side, are closed off by rubber covers. Screws are clearly visible, making sure the phone does not split open on first drop (although not tested). The screen is made from Gorilla Glass, also found on the
iPhone 4
, which is scratch resistant and does a lot to keep nasty nicks off the screen.
To what degree the Motorola Defy can take the rough and tumble is debatable, but we're quite sure that it can suffer the punishment that makes other smartphones cry for their mommy (or an extended trip to the repairman). We actually dunked it in a jug of water plus took it for swim in the pool, and it still worked like a charm afterwards.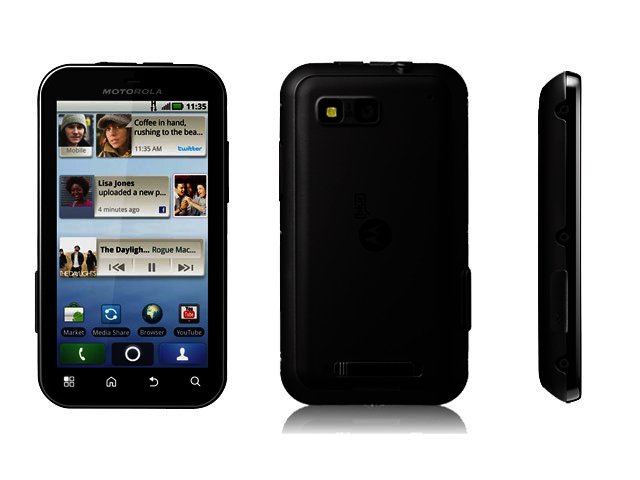 Performance
So how does the Motorola Defy perform as a phone? Well quite good thank you very much. Thanks to an 800 MHz processor under the hood it's pretty speedy, not struggling too much when opening apps, browsing through pictures or going through your list of apps.
We were quite impressed by the Defy's 3.7" screen loaded with a slightly above average screen resolution of 480 x 854 pixels. It looked great, but we must confess there were a few times when it did not want to register a press. Still, pinching and zooming was not a problem, while the Gorilla Glass makes one sleep a bit better, safe in the knowledge that it won't pick up scratches that easily (fingerprints is another matter completely).
Motorola Motoblur
Many of the smartphone manufacturers alter the user interface of Android to add a touch of functionality here and there. Motorola does this with Motoblur, which for example gives you quick access to local weather, your messages, your music currently playing, a music player and important contacts. Motoblur is also strong on the social networking side, displaying Facebook and Twitter messages directly on screen, while it can also integrate your Facebook contacts into your phonebook (our model simply refused to add a Facebook account for some reason).
Some hassles
The Defy though is not without a bit of hassles. First off it only carries the older Android version 2.1 (Éclair) and not the more common 2.2 (Froyo) found on
61.3% of all Android devices
. Because of this the phone misses out on for example Google's voice search capabilities.
Another let down is that although the phone includes a good five megapixel shooter, the video is still only VGA quality and not the higher quality 720p found on many of today's smarter smartphones. Picture quality on the 5 megapixel camera is only so-so, although it does a nice job of organising your pics according to where they were taken - if geotagging is turned on.
Conclusion
Although we won't go so far as to describe the Motorola Defy as fully-rugged, it is tough enough to deal with the knocks that all smartphones are tested with through the course of a lifespan - that means drops, scratches from your keys or maybe even a brief visit to the toilet bowl. It's for that reason that we would seriously recommend the Defy for anyone looking for a smartphone that is more Bakkies Botha than Charlize Theron.
Despite only running Android 2.1 we really enjoyed our time spent with the Defy since it's a solid phone in all regards (bar video recording) and one we won't mind buying ourselves. It retails for about R4000.
Pro: Will roll with the punches and actually survive, nice screen, good size.
Con: Running an older version of Android, bad video quality.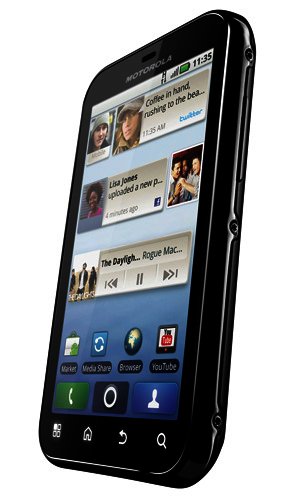 Will roll with the punches and actually survive, nice screen, good size.

Running an older version of Android 2.1, bad video quality.