In early 2014, the Sony Xperia Z1 compact marked a significant change for the smartphone maker. Not only had the Japanese company dropped the 'mini' moniker normally reserved for most smaller versions of flagship devices, but it also sported an enviable mix of components that matched its larger brethren at a lower price point.
While the new Xperia X compact comes in at less expensive than the Xperia XZ, it appears to have lost some of those other elements that set Sony's compact range of devices apart from other offerings in the past. Can its R9 999 price tag make for a convincing smartphone?
New aesthetics
Coming under the R10K mark by a whisker, the Xperia X compact is designed as a smaller version of Sony's Xperia X, which debuted at MWC earlier in the year. Despite being launched alongside the XZ flagship a couple months ago, this device is more akin to the X, especially as far as the innards are concerned.
We'll get to those shortly, but first the design, which indeed takes its cues from the XZ. To that end, the edges are rounded, with a plastic feeling rear cover and aluminium frame which has also received the plastic coating treatment. To my mind, this has yielded an altogether cheaper feeling device, with the usual all metal finish Sony normally goes for glaringly absent. The plastic has a high degree of reflectiveness to it too, and proves a magnet for smudges in the navy blue version.
Lacking something
It feels like Sony has not taken its trademark time and effort in ensuring every inch of the device looks good. While previous iterations of Xperia device may have been criticised for sticking to the same design formula, at least they could not be faltered on feel. This is evidenced by the area housing the new 23 MP triple sensing camera, which does not blend seamlessly with the rest of the back of the X compact.
If there is a silver lining to be found, the curved edges make the X compact easier to hold, and for those that do not want to veer north of 5", the 4.6" frame is well sized. The power button (with built-in fingerprint sensor), volume rocker and camera toggle are also well placed despite being on a smaller frame of phone.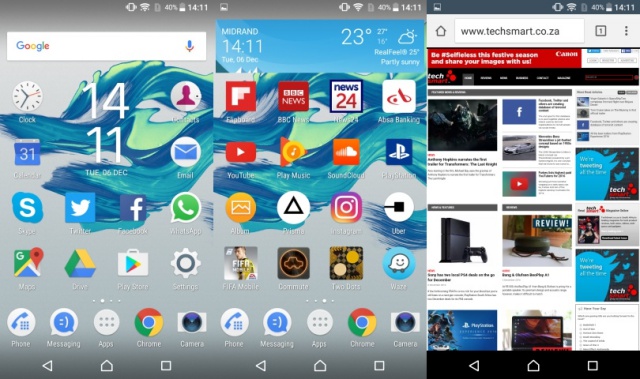 Specifications rundown
Looking at what Sony has opted for internally, we find the aforementioned setup seen in the Xperia XZ. Namely, a hexa-core Qualcomm Snapdragon 650 chipset, split between a 1.8 GHz dual-core and 1.2 GHz quad-core processors. There's also 3 GB of RAM, along with 32 GB of onboard storage and microSD slot good for an extra 256 GB. The mix, as it does in the Xperia XZ, yields a solidly performing device.
It's one that's relatively speedy while multitasking, and proves so when benchmarked, scoring 75 786 on AnTuTu. As expected, the Xperia XZ also registers a close 77 579, with the similarly specced BlackBerry PRIV getting 59 298. As such, compared to other smaller flagship devices, the Xperia X compact is ably specced.
While the X compact sports the same innards as the Xperia X, the former does feature an improved camera setup, in the form of Sony's new triple sensing technology, which melds together three different sensors to improve image quality in low light and trying to capture a moving object. In both regards, the X compact delivers, and is good while taking pictures outdoors.
Images taken with the Sony Xperia X compact.
Final verdict
Despite proving solid in all departments, the X compact has arrived a little late on the scene. It's no fault of the phone, however, but simply a fact that it was released alongside the XZ flagship and is not specced in a similar fashion, as has been the trend for previous versions of Xperia compact devices, like the Z1 and Z1 Compact. As such, instead of users hoping for a smaller version of the XZ top of the range offering, what they actually have is a smaller version of the mid-range X with an improved camera.
Consequently, this device is not compelling enough for consumers to pay R9 999, with better specced options out there for less money. All in all, the Xperia X compact is a well specced smartphone, but feels a step behind where it truly should be.

Good camera; Solid processor

Body feels less premium; Not ideally specced