Korean tech firm
LG
has made some great strides with their smartphones, recently being acknowledged by
Google
to produce the newest Nexus smartphone, the
Nexus 4
.
The Optimus L7 is the latest device from the Korean firm's Optimus range and it aims to win users over as their mid-range mobile of choice courtesy of the enhanced
Optimus UI 3.0
Android skin, quick-on-the-draw snapper, and decent 4.3" WVGA (480 x 800; 217 ppi pixel density) touchscreen.
Look and feel
When LG first presented its new
L-Style design philosophy
at the beginning of the year, we were sceptical about how the square-shaped styling will allow its devices to stand out from the crowd.
Unfortunately we were right, since the all plastic design of the L7 will not catch your eye when placed next to almost any other
smartphone
. But, just like the budget
L3
, we still found the L7 to be sturdily constructed, thin (less than 9 mm thick) and light (122 g), and feeling comfortable in hand and pocket.
The 4.3" display of the L7 may not sport the HD resolution found on high end devices such as the
Galaxy S3
(4.8" 720 x 1280 pixels; 306 pixels per inch;
review
), but the WVGA resolution is on par with its mid-range rivals, including HTC's Desire X (4" 480 x 800; 233 pixels per inch);
review
). Although its resolution might be on par with its class rivals, the L7 offers the most screen real estate within the mid-range segment.
This display provides you with a viewing experience that is very decent, with plenty of detail, excellent viewing angles and natural looking colours. It is also quite bright, so it fares better outdoors compared to the paltry performance of the L3's touchscreen. Unfortunately it is still prone to displaying reflections and accentuating fingerprints as well as smudges.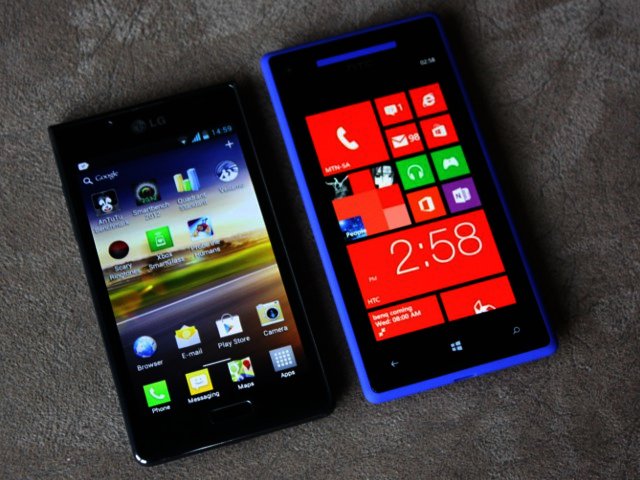 Whilst the decent display of the Optimus L7 (left) might catch your eye, its design will not, especially next to a smartphone such as HTC's Windows Phone 8X (right).
CPU and camera performance
Powering the L7 is a Qualcomm MSM7227A Snapdragon chipset that consists a single-core 1 GHz Cortex-A5 processor and Adreno 200 GPU. This does not compare well against its mostly dual-core equipped rivals including the Desire X (dual-core 1 GHz Qualcomm Snapdragon processor), and Sony Xperia sola (1 GHz STE NovaThor U8500 dual-core processor;
review
).
As expected this single-core Snapdragon was outmatched during benchmarking tests. Within Smartbench 2012, the L7 managed a score of 897 for the productivity index and 2618 for the gaming index, compared to the sola's respective scores of 2315 and 2179. In AnTutu the L7 delivered a total score of 3236, only to be outgunned again by the sola's tally of 5593 and Desire X's score of 5206.
It must be noted though that the single-core Snapdragon does provide for a decent day-to-day usage experience when navigating the Android ICS platform and running apps. There is some noticeable lag when multitasking, especially of you are running a few resource intensive apps such as Facebook, Twitter, and a game.
Snappy performance is also the order of the day with the L7's 5 MP autofocus snapper with LED flash. This camera's auto-focus functionality works very well allowing you to capture good-looking, but not overly impressive stills and record smooth (@30 fps) VGA (640 x 480) videos.
Unfortunately, HD-Ready (720p) video recording is not offered (just like the HTC Desire X), and neither is advanced camera features such as taking HDR photos or capturing stills whilst recording video. You are able to take burst shots (or continuous shots as LG calls them) as well as panorama photos, while the volume rocker doubles as a physical camera button when the smartphone is in camera mode.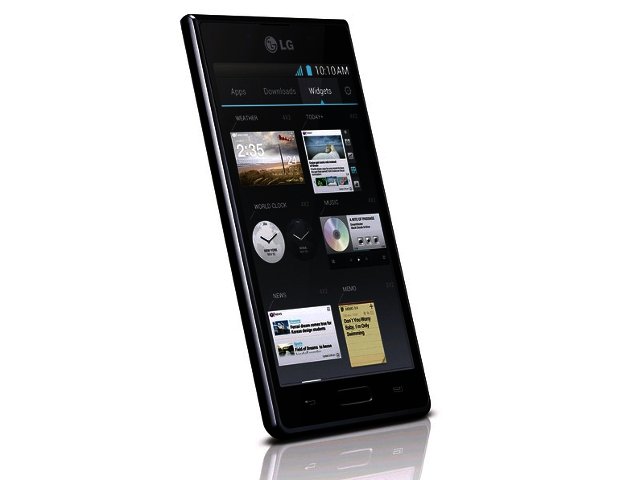 The CPU guarentees smooth sailing whilst navigating the OS, but could still do with a bit of dual-core kick.
ICS wears a finely tailored OS skin
It might not be
Android Jelly Bean
, the most up to date version of
Android
that is handling the operating on the L7, but ICS is at the very least more modern than Gingerbread, which can still be found on some devices such as the mid-range Xperia sola. LG has included the latest version (3.0) of its Optimus UI to bring a few distinctive features to ICS.
Like its Korean neighbour,
Samsung
, LG is aiming to enhance the user experience on Android with its own functionality. This includes QuickMemo that allows you to take notes on the display by using your finger, with the notes being saved to the phone's gallery. This feature comes in handy for taking down someone's number during a call.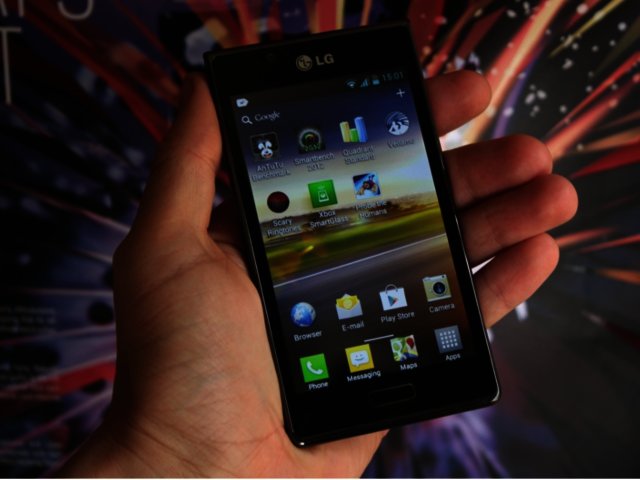 ICS goodness in hand, along with LG's sensible Optimus UI.
Other features
In terms of connectivity, the L7 has got all the bases covered offering 3G HSDPA connectivity with download speeds of up to 21 Mbps and upload speeds up to 5.76 Mbps, Bluetooth v3.0, as well as Wi-Fi 802.11 n with Wi-Fi Hotspot feature.
You will however be left wanted in the storage department since the L7 only features 4 GB worth of internal storage space, with only around 2.4 GB of this actually being user available. Luckily users can expand upon this via the microSD memory card slot which supports cards up to 32 GB in size. Despite the inclusion of a fairly large 1700 mAh battery, the L7 only puts in a standard battery lifetime of one full working day, meaning like most other devices users will have to charge it every night.
To the point
LG's Optimus L7 makes for a very compelling mid-range smartphone offering, thanks to its decent display (for this price class), fast shooting camera and improved UI skin running on top of a more up-to-date version of Android. However, it is hampered by its single-core CPU and
Crocs
-like design, in that its styling is rather unappealing, but very comfortable in hand.
The recommended retail price of the L7 is R3 700, placing it up against the pricier Sony Xperia sola (R4 300), Desire X (R4 000),
BlackBerry Curve 9380
(R3 800), and the more affordable
Huawei Honor U8860
(R3 600).
We definitely feel that no one opting for the L7 will be disappointed with their choice, but that the Desire X with its dual-core CPU, eyecatching design and added camera functionality is still out mid-range top dog.
Pros:
Great 4.3" display for a mid-range offering.
Android ICS out of the box.
One of the better Android skins out there.
Quick auto-focus feature on the snapper.
Cons:
Single-core CPU.
Only VGA video recording.

Great 4.3 inch display for a mid-range offering. Android ICS out of the box. One of the better Android skins out there. Quick auto-focus feature on the snapper.

Single-core CPU. Only VGA video recording.