The latest addition to Sony's Android-powered Xperia range, the sola, offers some innovative features to help distinguish it from the rest of the mid-range smartphone crowd.

For one, the Android 2.3 (Gingerbread) running device is Near Field Communication (NFC) enabled, a feature found in many high-end phones (except the iPhone 5) but in practice used, at least at this stage, not very often.

What makes the sola different is the inclusion of two NFC Xperia SmartTags. These SmartTags are about the size of a R5 coin, and if you swipe the Sony across one, it enables the handset to automatically perform up to ten commands.

For example, one SmartTag can be placed on your work desk and programmed via the LiveWare manager app to turn Wi-Fi on, launch you personalised News and Weather page and set the sound profile to silent. In the car, the other SmartTag can be set to turn the sound profile back to loud and activate your data connection and Bluetooth. These SmartTags are easy to use (a bit of setup required initially) and we actually found it quite practical.

Besides SmartTags, Sony also included its floating touch (FT) technology. When you hover your finger just above the display, it will function as mouse pointer. Floating touch is currently limited to the browser and nowhere near as useful as SmartTags, but will be employed within the forthcoming ICS update to the sola for Glove Mode.

This new feature allows your smartphone to be used even whilst you are wearing gloves - maybe more of a problem in the northern hemisphere. A cursor ring is displayed where the user presses on the screen with their gloved hand to turn it on. In order to deactivate this mode, you simply unlock the device using your bare finger.

Design

Even though the sola's incorporation of features like NFC and Floating touch might be quite innovative, its design is a lot more conservative. With its square-shaped, plastic candy-bar frame (116 x 59 x 9.9 mm; 107 g), it is by no means the most eye-catching mid-range device. But this does make the device feel sturdily constructed and definitely not cheap.

Sony equipped the phone with a 3.7" (480 x 854 pixels) Reality Display, which features the Mobile Bravia engine for enhanced screen clarity. Due to its relatively high 265 ppi pixel density, text is easy to read whilst photos and images look detailed.

However, this touchscreen is prone to displaying reflections and glare when viewed outdoors in direct sunlight, especially compared to Nokia's ClearBlack display on the similarly priced (R4 000) Lumia 710.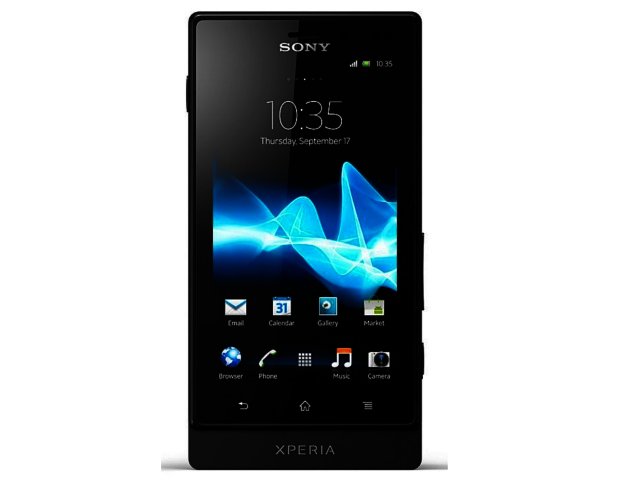 Performance

Powering the sola is a 1 GHz STE NovaThor U8500 dual-core processor. During benchmark tests this CPU managed a score of 5 593 within AnTuTu. This was enough to trump both the the scores of the Huawei Honor U8860 (3 713; 1.4 GHz Qualcomm single-core processor) and HTC's new Desire X smartphone (5 206; 1 GHz dual-core Qualcomm Snapdragon S4).

Within Smartbench 2012 the sola delivered a score of 4 494, compared to the Honor's 3098 and Desire X's score of 4 218. Beyond its benchmarking performance though, this CPU along with the 512 MB of RAM on offer delivered a smooth day-to-day user experience navigating the OS and running apps.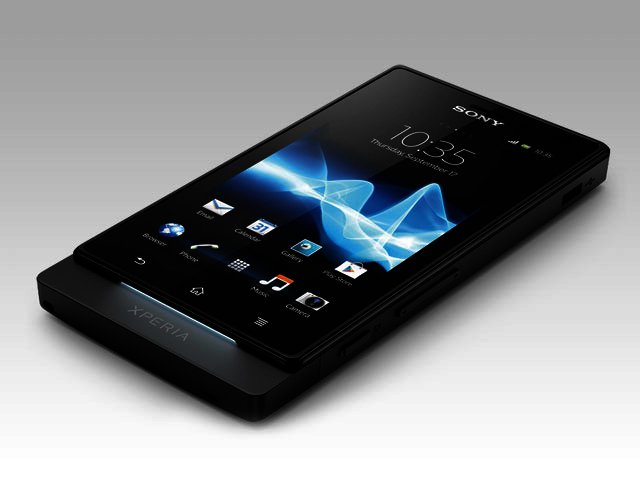 Other features

Also onboard is Bluetooth 3.0, Wi-Fi 802.11 n, 3G HSDPA connectivity that delivers download speed of 14.4 Mbps and uploads speeds of 5.76 Mbps. In terms of optics, a 5 MP camera at the back can record HD-ready (720p) videos, whilst taking detailed, good-looking stills.

Sony also fitted the sola with its xLOUD and 3D surround sound audio technology, but we really did not notice much of a difference in sound quality or volume compared to other smartphones while listening to music through the onboard speaker. When listening via the provided Sony earphones through, the xLOUD tech did provide some noticeable audio bang in terms of volume.

The sola offers 8 GB (only 5 GB is user accessible) worth of internal storage for your apps and multimedia content such as videos, photos as well as music. This storage can be boosted via a microSD card slot that supports cards up to 32 GB in size.

To the point

Sony's Xperia sola is a solidly built mid-range Android smartphone that has managed to find a practical use for NFC technology. It goes for a RRP of R4 300, placing it up against some tough mid-range smartphone competition such as Huawei's Honor U8860 (R3 600), LG Optimus Black P970 (R4 500) and BlackBerry Curve 9380 (R3 800).

Its design may not let it stand out from these competitors, but its innovative functionality the likes of NFC SmartTags and Floating touch technology definitely does.

Pros:

NFC SmartTags are useful; great display; and snappy performance from CPU.

Cons:

Floating touch just a gimmick at the moment; no wow factor from the overall design; and only 720p video recording.

NFC SmartTags are useful; great display; and snappy performance from CPU.

Floating touch just a gimmick at the moment; no wow factor from the overall design; and only 720p video recording.