When it comes to modular phones, the jury is still out for us, especially with Motorola (owned by Lenovo) being the only real manufacturer pushing forward with this concept. There are certainly advantages, upgrading or enhancing elements of one's device with a handy attachment, but above all the base device needs to prove capable in its own right sans modular components. It's part of the reason why the Moto Z Play did not win us over entirely, with other smartphones sporting similar specifications costing far less.
How then does the second iteration, the Moto Z2 Play fare? We recently put it through its paces to find out.
Refreshed look
Before we delve into the Z2 Play's specifications and features, it's important to note where it falls in the Motorola smartphone lineup. At the top currently, sits the Moto Z2 Force as the company's flagship offering. Just below it is the Z2 Play, as an option for those that want the flagship stylings on the exterior, but don't want to pay for flagship elements internally.
As such, the Z2 Play is not touting some of the high-end specifications of a flagship, but still has enough aspects to make it noteworthy. More on those later, however, as we tackle its design first. On this front, not much has changed in terms of dimensions and shape, given the requirements for Moto Mods to fit a particular size of phone, but Motorola has given the device a nice refresh. To that end, the Z2 Play feels far more premium than its forebear, with the aluminium frame sitting nicely in hand.
Up front, a 5.5" Full HD display (1920x1080) is present, which yields a crisp interface and notably bright screen, even at 50%. Just below the screen sits a fingerprint sensor/home button, which just like Huawei's P10 and P10 Plus is designed to facilitate easier navigation. The result is a few shortcuts to access different elements of the device, which comes in handy given the phone's dimensions, and means you don't have to adjust your hand a lot of the time while using the Z2 Play.
On the back is where things get a little more interesting. It's perhaps the one area that's a little baffling on the Z2 Play. Most of the reason stems from the rear camera bulge and exposed smart pins. The latter is used to attach and detach different Moto Mods, but could be aided by a removable back cover instead, just from an aesthetic point of view. The addition of a back cover would also mean that the Z2 Play's primary camera would sit a bit more flush with the rest of the device, instead of having an unsightly bulge that does not allow the phone to lay flat on a surface.
Solid performer
Sticking with the camera, Motorola has opted for a 12 MP dual autofocus setup, with a f/1.7 aperture present. While not a leader among similarly specced smartphones, the camera on the Z2 Play will stand you in good stead. It takes solid pictures while capturing outdoors with a good autofocus speed for quick snaps. The low light performance is a little more mixed, with colours looking a bit more dull than expected. All in all though, the Z2 Play's camera capabilities will prove welcome additions for any smartphone owner.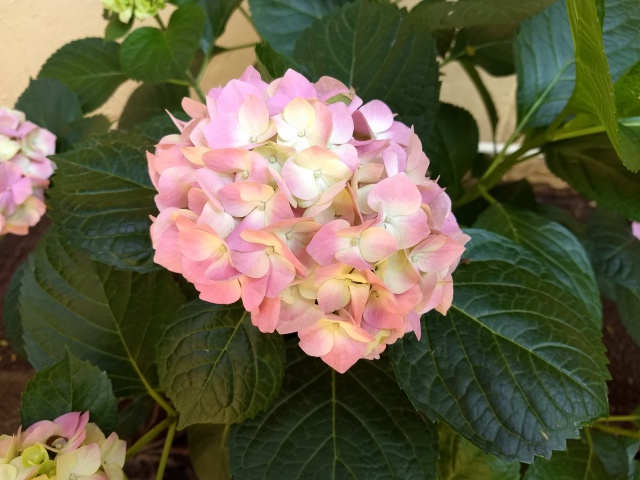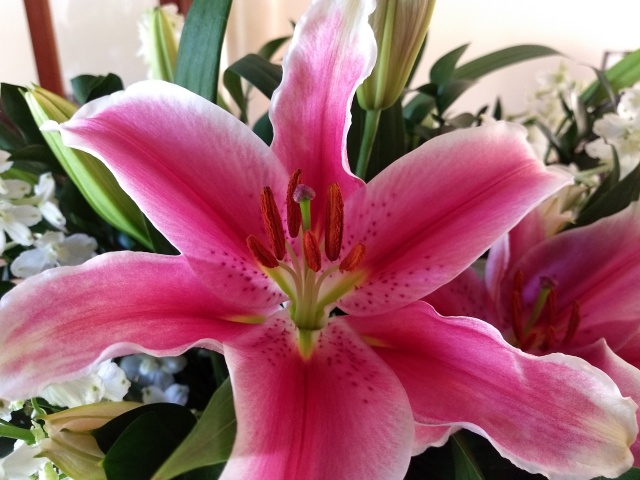 Images taken with the Motorola Moto Z2 Play.
Now for the internal specifications. An octa-core Qualcomm Snapdragon 626 processor is present, clocking in at a respectable 2.2 GHz. There's also 4 GB of RAM available on this review model (3 GB option also available) and 64 GB onboard storage (microSD slot for up to 2 TB). The end result is a phone that feels rapid while multitasking, with no signs of feeling sluggish or underpowered. On AnTuTu (6.2.7), the Z2 Play registered an equally respectable 68 607, which outperformed the Sony Xperia XA1 Ultra (63 247) and Huawei Nova's 64 219.
Further enhancing the user experience is a pleasant UI, with Android 7.1.1 (Nougat) on offer. As far as custom skins go, the Z2 Play has one of the better third-party ones available, with a clean and easy to navigate system. As such, those allergic to bloatware or duplicated apps should find the Z2 Play a treat.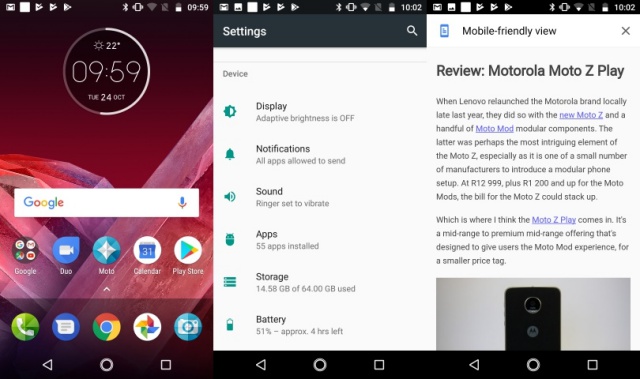 A couple Mods
Let's turn to the Moto Mods, which have gotten a new lick of paint to go with the latest iteration of Moto Z smartphones. We were given the JBL SoundBoost 2 to try out alongside our Z2 Play. Once attached, there's no getting around just how large the Z2 Play becomes, which means you'll probably have to carry the SoundBoost 2 around separately, or ask your tailor to make your pockets a bit bigger. Luckily though, despite its size, the SoundBoost 2 does not make the Z2 Play unwieldy, while tipping the scales at a combined 280 g.
In terms of sound quality, the SoundBoost 2 is heavy on the bass, not producing the most balanced audio for watching movies. That said, they're certainly far better than the standard onboard Z2 Play speakers, and should come in handy while listening to music by yourself. They won't prove strong enough for a room full of people, but can definitely match up with ultra compact portable speakers like the Beoplay P2.
Final verdict
Getting your hands on a Moto Z2 Play will cost you around R8 799, including JBL SoundBoost 2 Moto Mod. It's a relatively good value for money price given the Z2 Play's considerably better all-round performance compared to its predecessor.
That said, it still suffers from one major issue the entire Motorola modular range does - price. With the Moto Mods costing a fair amount in their own right, as well as being hard to locate locally, one can soon start paying in excess of R10k for the Z2 Play and a couple of Mods. As such, the argument against simply purchasing an out and out flagship with all the bells and whistles built in, becomes harder to make.
For now, the Z2 Play should only be considered by consumers that already have Moto Mods at their disposal.

Premium finish; Solid processing power; Streamlined UI

Unsightly camera bulge; Can become expensive with Moto Mods