Sony knows how to make a solid phone. One need only look at the number of Xperia branded devices the Japanese company has released over the past few years, as proof. The flagship formula for Sony has always been quite straightforward - stick with a particular design aesthetic, then add a good screen, a high-powered camera and generous battery life.
Is that enough though, especially in the current era of longer displays and pure Android operating systems? We took the Xperia XZ1 for a spin to see if the company's latest offering proves more tempting than previous efforts.
Same formula
As mentioned, you know what you're going to get when you buy a Xperia smartphone, and the XZ1 is no different. This iteration is a follow up to last year's XZ, which was an altogether well made device, if a little unimpressive given its price point. From a design perspective, both phones look quite similar. To that end, it will take a trained eye to spot some of the changes.
All of these differences are superficial, with some for the better and others not so much. One we're happy to see is the removal of the rectangular block at the bottom of the back from the XZ. The result is a device that's far more polished and less prototype-esque than the XZ. Thankfully the matte finish has been retained for the XZ1, which increases the level of tactfulness, while also proofing a tad more smudge-proof than the current mix of glass back covered phones.
Not all changes are welcome, however, with the XZ1 featuring design flourishes on the frame and above the rear camera. These take the form of strips coloured slightly differently to the phone's body, and are likely antenna lines from what we can tell. Picked up only in certain light, it's a weird inclusion and one that keep everything one solid colour would have solved.
Shifting to some of the other elements, a 5.2" display (1920x1080) is up front, and like previous flagship Xperia screens, is bright and crisp. Other than that, there isn't much in terms of interesting features, with the edges of the screen stretching close to the sides of the phone, but not fully edge-to-edge.
Fast multitasker
While there isn't much happening on the outside to entice users, once booted up, the Xperia XZ1 is one of the faster devices you'll encounter this year. Under the hood, one will find an octa-core Qualcomm Snapdragon 835 processor, along with 4 GB RAM. As expected the mix yields a fast experience in-hand, with multitasking a breeze, and for those that enjoy benchmarking, the XZ1 does the job there too.
On AnTuTu (v6.2.7), the XZ1 mustered an impressive 157 521, which is close to the Samsung Galaxy S8's 168 990 and LG V30+'s 167 156 scores. As such, from a processing perspective, the XZ1 is relatively on par with some of the more expensive devices out there, and should be able to multitask at a rapid rate for the next couple of years.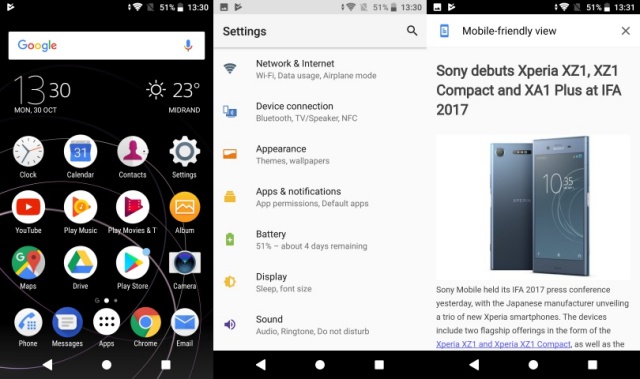 All round camera
Among the usually solid elements one might find in a Xperia flagship is a good camera. On that front, the Xperia XZ1 has a 19 MP f/2.0 lens similar to the one introduced with the XZ Premium. This means that along with taking high quality pictures in a number of environments, it has an added feature with 960 fps slow-mo video recording. It's something that fans of shooting video via a smartphone will enjoy trying out and experimenting with, but is in no way the sole reason for buying the XZ1.
Another interesting camera feature is the 3D Camera tool, which allows users to scan and create 3D sculptures for use on a variety of platforms. While speaking to Sony Mobile South Africa recently, they noted that this tool could be handy at creating avatars for PlayStation, or perhaps using in games where 3D face scans can be integrated.
Giving it a whirl, 3D Creator is a tool that requires a good deal of patience and practice, as well as plenty of room to scan your desired object properly. Despite more than a dozen attempts, the below effort was the best we could muster for a freeform 3D scan of a Coke can.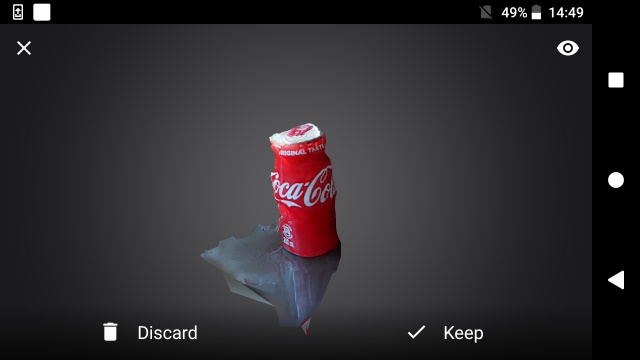 Final verdict
The Sony Xperia XZ1 will cost you a shade under R10k, depending on the retailer, which is a good price in the current market for a flagship smartphone. No, it does not feature any of the newer design elements in the mobile industry, such as longer displays and curved screens, but it is a well equipped piece of hardware.
Armed with a fast processor, amble RAM, good battery life (2700 mAh) and bright screen, the Xperia XZ1 could very well be an option for cost savvy flagship phone fiends that don't want to pay 13k-plus for a new device.

Solid design and build quality; Solid all round camera; Fast processing

Looks like every other Xperia