It's safe to say that Windows Phone, from a user experience perspective, has always been a bit hit and miss, as its Live Tile setup looked intriguing, but often failed to deliver the ease of use afforded to most Android and iOS operating systems. Added to this was a sub par app ecosystem, lacking the sheer number of options available in the online marketplaces of its rivals.
Refreshed OS
As far as the latter is concerned, not much has changed, with the Windows Store still lagging behind that of Google's Play Store and Apple's App Store. The same statement however, cannot be levelled against the newly designed and enhanced Windows Phone 8.1 OS, which feels far smoother and easier to use than previous integrations. Of all the features incorporated into this software iteration, we found the new action centre a godsend, with the ability to quickly reference any messages or notifications with a simple downward swipe highly useful.
Now that the OS has been fine tuned for a better experience, it requires a strong foil to showcase all the hard work that Microsoft has put in. Thankfully it has such a device in the form of the Lumia 930, which for all intensive purposes, is Nokia's new flagship. If we had to pinpoint the one defining feature of the Lumia 930, it's the newly fitted 5" (1080x1920) Amoled capacitive touchscreen, which produces a beautifully vibrant 441 ppi pixel density.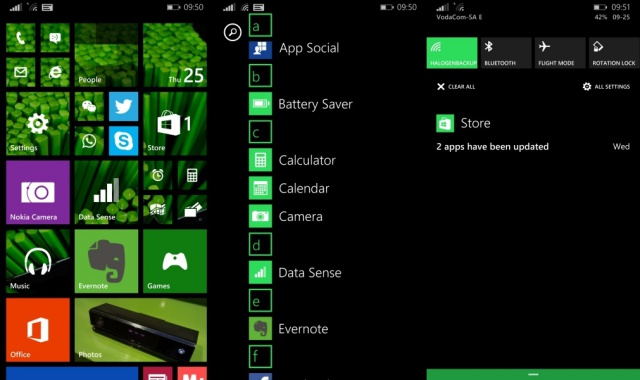 Top tier display
To put that figure into better context - when placed alongside other flagship rivals it ranks as one of the best-in-class, with the 5.1" Samsung Galaxy S5 (review) registering 432 ppi and 4" Apple iPhone 5s (review) producing 326 ppi. The only other device surpassing the Lumia 930 from a pixel density perspective, is LG's immensely well specced 5.5" G3 (review), at 534 ppi.
As a result, colours on the Lumia 930's screen burst into life and retain all the brightness and clarity that a flagship smartphone user could want. It also serves as a great way to showcase the new home screen enhancements found in Windows Phone 8.1. One of which is the ability to select a gallery image and integrate it into the Live Tile home screen. This may not improve the device from a productivity standpoint, but certainly adds another layer of personalisation to one's experience.
This 5" display also lends itself well to viewing movies or videos, as well as browsing the web, with all the nuanced detail for mobi and regular websites rendering well. Games too, look great on the Lumia 930, although the selection available in the Windows Store left a little to be desired.
Hotting up
Looking at the rest of the device, Nokia has favoured a simple approach for the Lumia 930's design, utilising an aluminium frame and hard plastic back cover. Our review unit featured a particularly bright hue of luminous green which could easily double as a glow stick during a party. Colour aside, the back cover felt sturdy enough to deal with use throughout the day, and the aluminium frame appeared capable of taking on a few bumps and knocks.
As we ran benchmark tests on the Lumia 930, it revealed a worrying propensity to heat up, which is a common problem among smartphones with plastic back covers. This was a not deal breaker for us, but made the Lumia 930 feel far less premium than it truly is.
Up to the test
Sticking with benchmark testing, the Lumia 930 performed well, registering a total score of 26 330 on AnTuTu for WP, as well as 511.19 on WP Bench. These results confirmed our own experience, as the Lumia 930 was responsive and quick, allowing for switching between multiple apps with ease. From a productivity standpoint, the Lumia 930 lends itself well to any user aiming to get many tasks done on the fly.
This uninhibited productivity experience is partly down to Nokia opting for a quad-core Qualcomm Snapdragon 800 processor, clocked at 2.2 GHz. Paired with 2 GB of RAM and 32 GB worth of internal memory, the Lumia 930 will certainly stand you in good stead from a internal components perspective. Added to this, is a nano-SIM setup, as well as 3G and 4G/LTE bandwidth compatibility. Further taking care of one's connectivity needs is Wi-Fi 802.11 a/b/g/n/ac and Wi-Fi hotspot functionality, with Bluetooth 4.0 to boot.
The one thing missing from all this, is a microSD slot for expandable storage. The reason for this is up for debate, but it probably serves as a move to push Microsoft's cloud-based storage solutions, with 15 GB worth of OneDrive space afforded to those with a Microsoft account.
One other feature that thoroughly impressed was the Lumia 930's battery, a 2420 mAh lithium-ion cell that gave a full day's use with relative ease. Even though the battery cell itself is slightly smaller than its flagship counterparts, Windows Phone 8.1 does a great job of managing one's power usage, especially when the smartphone is not in use.
High focus
Moving away from its internal elements to the one area that Nokia has historically placed a lot of importance on, namely cameras. The Lumia 930 is no different, with Nokia fitting a 20 MP Carl Zeiss-lensed version on the rear of this flagship. For the front facing camera, a 1.2 MP option has been favoured.
The primary camera itself can capture 4992x3744 content, with Nokia integrating a host of enhancements to provide different shooting options. In many respects, these often get in the way of simple point and shoot photography, particularly for those users not wanting multiple options to flip through. If however, capturing an image of that perfect sunset for your Instagram feed gives you kicks, the 20 MP camera incorporated into the Lumia 930 is a welcome addition to your photography arsenal.
The Lumia 930 copes well while capturing outdoor images, but within the confines of a poorly lit or darkened room though, it struggles ever so slightly, as the brightness from the dual LED flash can sometimes lead to images not rendering as desired. Overall though, the 20 MP camera touted on the Lumia 930 is one of the better one's available on a flagship smartphone today.
Final verdict
All in all, the Nokia Lumia is a solid performing device with a high resolution camera and high quality display. Having said that, these have never been issues that previous Nokia flagship devices fallen short on. Instead, the newly improved look and feel of Windows Phone 8.1 is the real selling point of the Lumia 930, which provides a far more robust and responsive experience than in the past.
When you add to the mix its R8 000 price tag, it sits slightly below its flagship counterparts in the costs stakes, which should make it more enticing for cost-savvy users. Furthermore, an uncompromised user experience and sleek design culminates in a device that any fan of Windows Phone would be proud of. Whether or not it can lure users away from the Galaxy S5 or iPhone 5s however, remains to be seen. We do, however, recommend giving it a shot.

Strong and sturdy design; Stunning display quality; Solid user interface

Back cover gets very hot under heavy use; Slow image processing despite powerful camera