After bringing the range topping Lumia 900, former king of the hill Lumia 800, and midrange star in the Lumia 710 to market, Nokia offers users a budget Lumia device in the form of the Nokia Lumia 610. Sporting a princely design and more modest pauper specs, this Windows Phone 7.5 operating smartphone aims to introduce Windows Phone OS to a new, budget-conscious user base.

From the House of Espoo

Nokia's Lumia 610 sports a decidedly eye-catching design that exudes quality. The rubberised back cover is easy to remove, with the rest of the phone incorporating black- and high glossy grey plastic. Unlike its bigger brother in the Lumia range, the Lumia 710, which sports physical navigation keys, Nokia's Lumia 610 features capacitive touch buttons (back, home, and search) right beneath the display, which adds to the overall premium look and feel.

This smartphone measures in at 119 x 62 x 12 mm, making it feel incredibly comfortable to hold, whilst its 131.5 g weight means that you will not even notice it in your jeans pocket. Just like the rest of the Lumia smartphone brigade, this device makes use of a microSIM card.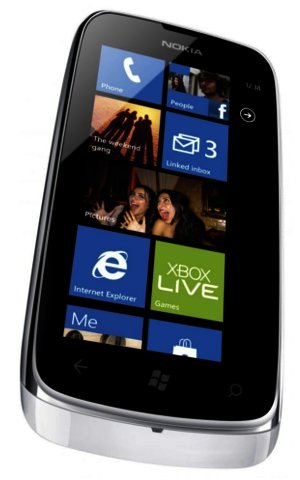 Displaying some budget screen initiative
Nokia's ClearBlack display technology does not make an appearance on the 3.7" TFT capacitive touchscreen of the Lumia 610, meaning that the baby Lumia is not as usable as the rest of the Lumia range under the warm rays of the South African sun, since it is prone to show reflections and glare.
This screen features the standard
Windows Phone OS
WVGA resolution of 480 x 800 pixels, as well as a solid 252 ppi pixel density count. The resolution is on par with competing handsets in this price range (below R4 000) such as the
Huawei Honor U8860
(480 x 854 pixels; R3 600) and RIM's
BlackBerry Curve 9380
(360 x 480 pixels, R3 800). With such a decent ppi, text and images appear detailed, whether you are looking at photos in the camera roll (gallery) or browsing web pages.
American powerplant under the Finnish hood
For its premium designer threads, the Lumia 610 boasts a much more modest spec sheet. Powering this Finnish smartphone is a Qualcomm MSM7227A Snapdragon chipset featuring an 800 MHz ARM Cortex-A5 CPU and Adreno 200 GPU.
Like with the rest of the devices in the Lumia range, this Snapdragon processor duo keeps things smooth whilst running apps and navigating the operating system (OS), which in this case is a scaled down version of Windows Phone 7.5. This enables Windows Phone 7.5 to run on a device with a 800 MHz CPU and only 256 MB of RAM, a step down from Mango's required 1 GHz processor and 512 MB of RAM.
It must be noted however, that although performance is lag-free, it is not as snappy as it is on the other Lumia devices, most notably compared to the Usain Bolt of the Lumia range, Nokia's
Lumia 900
. Microsoft
also already revealed
that Windows Phone 7x devices will not be updated to Windows Phone 8 (WP8), but will rather get Windows Phone 7.8 instead, which luckily sports the same revamped user interface as WP8.
As crucial as this lack of updatability to WP8, is the fact that the Lumia 610 only has half the RAM seen on its Lumia siblings, means that not all the apps contained within the
Windows Phone Marketplace
(already less than the selection available on both
Apple's App Store
and
Google's Play Store
) will work on the Lumia 610.
For instance, we could not download two popular apps in Skype and Angry Birds, with both of these displaying the following message: "This application is not available for your device." However, we did not have a problem downloading most of the other apps like Facebook and Twitter or gaming titles including Nokia Climate Mission and the addictive Ant Smasher.
The Lumia 610 scored 53 within WP Bench speed test, which is a fair bit down on the 89.04 score obtained by the
Lumia 710
, 91.09 achieved by the
Lumia 800
and 92 managed by the Lumia 900.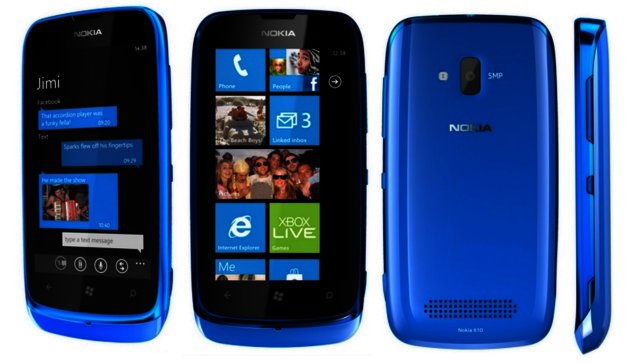 Other functionality
In terms of internal storage space, users get a useful 8 GB worth of storage with only around 6.2 GB being user accessible. This amount is not expandable due to the lack of a microSD memory card slot (a common problem on Windows Phone devices). You do receive 7 GB additional cloud-based storage for free via
Microsoft SkyDrive
, as well as access to the best-in-class document viewing and editing suite in Microsoft's Office Hub (Word, PowerPoint, Excel, OneNote).
In addition, users get 3G HSDPA connectivity with download speeds up to 7.2 Mbps and upload speeds up to 5.76 Mbps, as well as a 5 MP autofocus camera (no fancy Carl Zeiss optics) with LED flash that takes some decent looking stills and records VGA (640 x 480, as opposed to 720p) videos at a smooth as butter 30 fps.
For added camera functionality, you can download the Nokia's Creative Studio app for free from the Windows Phone Marketplace, which allows you to crop your photos and employ some editing features along with a few fun effects. In addition, the
new Camera Extras app
(also a free download) adds enhancements to the camera such as the ability to capture a panoramic shot as well as best shot, which enables users to take a series of shots with the camera and save the best one.
Mix Radio and Nokia Drive
Users will appreciate some of the excellent apps included on the Lumia 610 such as Nokia Drive that brings turn-by-turn, voice-guided navigation and Mix Radio. The latter is a free (although data costs apply) mobile music-streaming application that works over Wi-Fi and 3G. It enables music lovers to stream music tracks from Nokia's global catalogue of millions of tracks that includes a large contingent of local artists.
You are also able to download celebrity mixes, which are collections of songs chosen by famous celebs the likes of Rihanna, Lady Gaga or flavour of the month
Carly Rae Jepsen
, or create your own based upon your favourite artists and types of music (pop, hip hop or R&B mixes for instance).
Also onboard is Wi-Fi 802.11 n, along with the always handy Wi-Fi hotspot functionality (internet sharing) and a rather outdated Bluetooth v2.1 with A2DP and EDR, since more affordable (R1 000) devices like
Samsung's Galaxy Pocket
sports Bluetooth v3.0 already and
top of the line smartphones
feature version 4.0.
In terms of battery life we found that the Lumia 610's 1300 mAh Li-Ion battery was good enough to deliver more than a full working day's usage, even with Facebook, email and Twitter constantly updating in the background. However, if you sponge off of the work's Wi-Fi network in order to download Mix Radio mixes as well as games and your battery will drain much faster.
To the point
Nokia's Lumia 610 features a good looking design, easy to use mobile platform and a lot of useful apps such as Nokia Drive and Mix Radio. If you are in the market for a device at the lower-end of the smartphone budget spectrum and you are not a fan of Android, then the Lumia 610 will meet most, if not all, of your smartphone needs.
It goes for around R3 300, which places it up against some tough competition in the form of the
Huawei Honor U8860
(R3 600),
Samsung Galaxy Ace
(R3 000) and
BlackBerry Curve 9320
(R3 000). Alternatively, users who like Windows Phone OS can opt for the
Nokia Lumia 710
at R4 000, which will give them access to all of the apps within Windows Phone Marketplace and is powered by a quicker single-core 1.4 GHz Scorpion CPU.
Pros:
Good-looking design; equally eye-catching mobile platform look and feel; onboard Microsoft Office hub; capable snapper; added camera functionality via Camera Extras and Creative Suite apps; Mix Radio and Nokia Drive apps work very well; and SkyDrive cloud storage integration.
Cons:
A bit pricey; not as snappy as Lumia kin; not all the Windows Phone OS apps work with this device; VGA video recording instead of HD-Ready; can't be updated to WP8.

Good-looking design; equally eye-catching mobile platform look and feel; onboard Microsoft Office hub; capable snapper; added camera functionality via Camera Extras and Creative Suite apps; Mix Radio and Nokia Drive apps work very well; and SkyDrive cloud

A bit pricey; not as snappy as Lumia kin; not all the Windows Phone OS apps work with this device; VGA video recording instead of HD-Ready; and can't be updated to WP8.